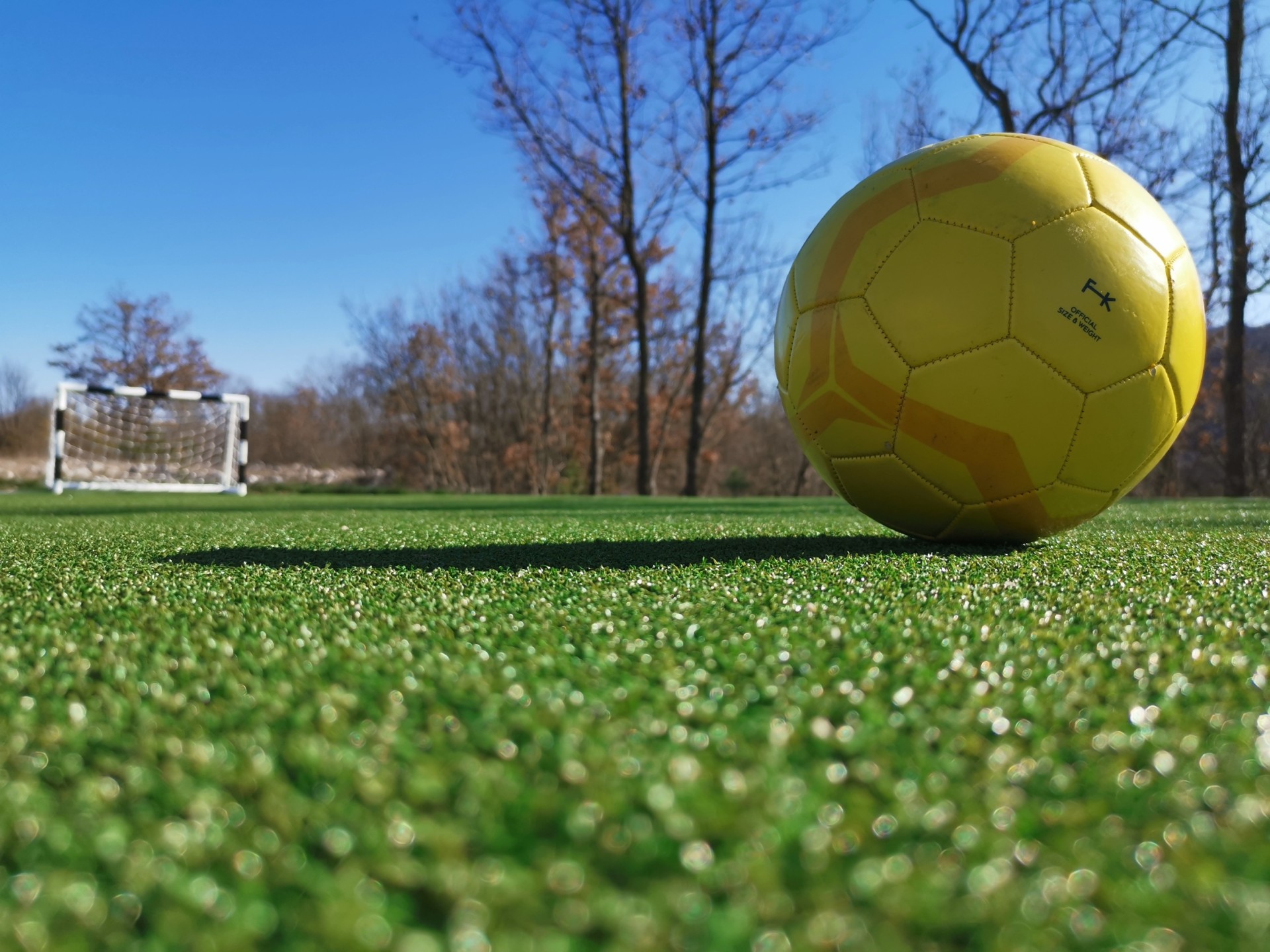 Is artificial grass better than real grass
Is artificial grass better than real grass?
Are you in the process of planning or building your holiday home in Croatia and have doubts about how to arrange the garden of your villa in Croatia? Do you think a real lawn is ideal for your yard? Don't know much about artificial grass? The answers to all these and many more questions that will interest all current and future owners of holiday villas in Croatia are presented in this article with an interview with a reliable and proven team from Konveks d.o.o.
We think it is best to start with the question that all investors and owners of villas in Croatia have, whether to put artificial or real grass when arranging backyards of holiday villas in Croatia?
When decorating holiday villas in Croatia, the owners pay special attention to the appearance of the environment but also take care of the time and money needed to maintain the garden of their villas in Croatia at the highest possible level throughout the season. This is exactly the reason why holiday villa owners very often decide to set up an artificial lawn. They want to keep the greenery in their environment, but they are careful not to disturb their guests staying in the holiday villa during the maintenance. At the same time, artificial grass is ideal for achieving the most effective photos of villas in Croatia because we all know how important a beautiful photo of a villa is today.
Artificial grass has proven to be an excellent decision because it contributes to a tidy and beautiful environment of holiday villas without spending extra time on mowing and watering. The owners of holiday homes and guests of these villas in Croatia are also satisfied. There is nothing more beautiful than complete privacy when staying at holiday villas in Croatia.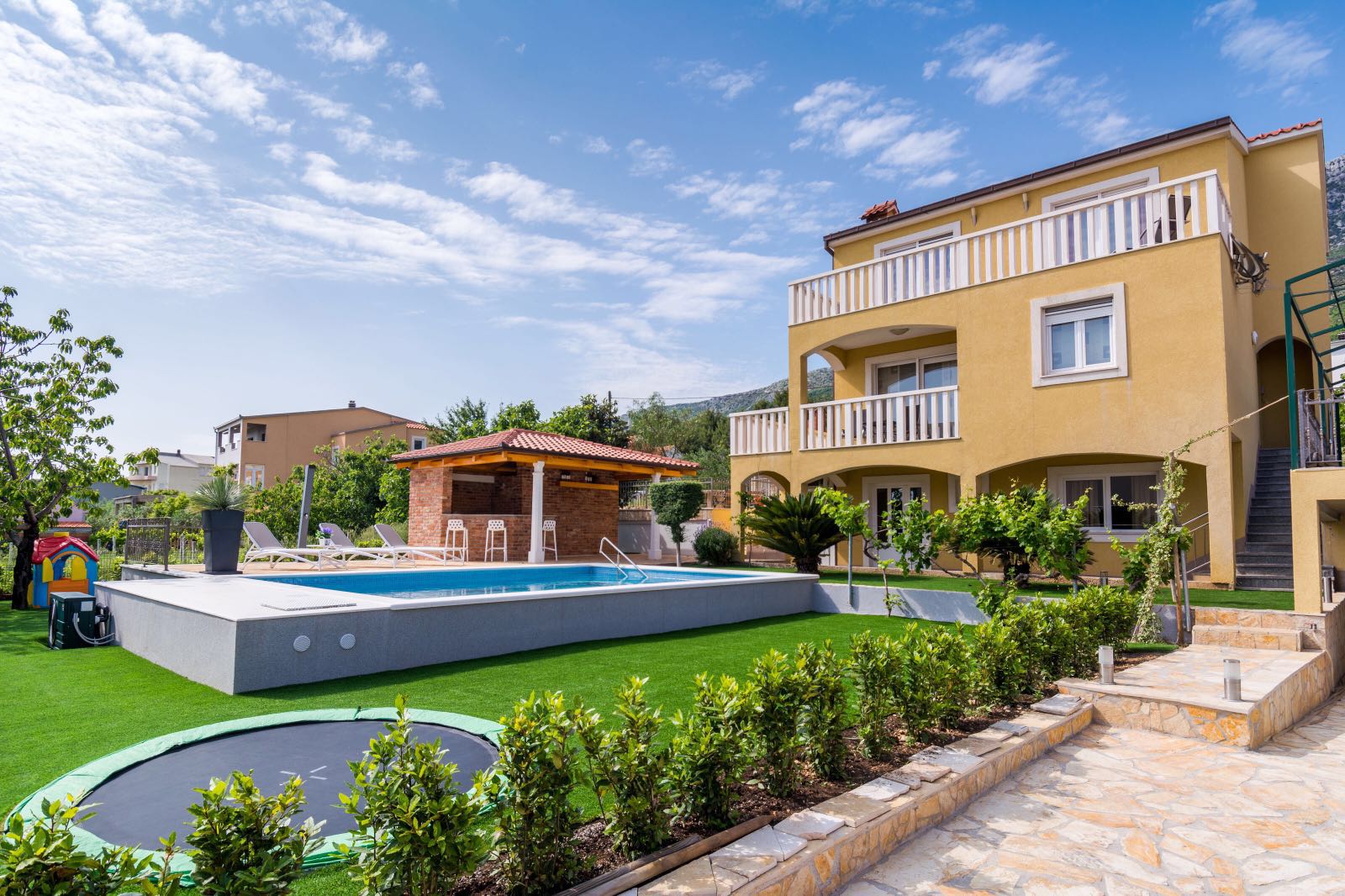 What are the benefits of artificial grass, and what are your tips before choosing a type of artificial grass?
Advantages of artificial grass.
The biggest advantage of artificial grass is that it does not need to be maintained. It takes a little time and effort to keep it tidy and clean. If your backyard of a villa in Croatia is in a shady area, artificial grass could solve your problem with moss, moisture, and frost during the winter. Children will enjoy the artificial grass all year round, and the grass is an ideal base for various children's devices and games on your holiday villa in Croatia. If you have pets, you will not have problems with mud in the yard or with a muddy holiday villa from dog paws. You can use the grass all year round so you can enjoy it outside of your villa in Croatia in the middle of winter, and you won't have to worry about mud or wet grass. If you have a small garden around your villa, artificial grass is an ideal solution because you will make full use of the outdoor space throughout the year. With normal use, the grass will last for years without additional investment of money and effort.
Tips before choosing artificial grass.
Before choosing artificial grass for your holiday villa in Croatia, be sure to pay attention to the surface on which you want to install artificial grass. It is not the same if you wish to place artificial grass on a balcony or terrace with a solid surface or place it in the yard of your holiday home, where there is currently real grass or earth. If you want to place the grass on a solid surface of your holiday villa, then it is enough to cut the grass properly and glue it to the base. If the place where you want to lay the lawn is currently earth or real grass, you must know that before laying artificial grass, it is necessary to make a base. The base is made by removing the top layer of soil, up to 5 cm, so that the geotextile can be laid and the ground filled with sand. A well-leveled and compacted sand base is a good base for placing artificial grass in the yard of your villa in Croatia. We would definitely recommend comparing different samples before choosing grass. You will notice the difference in color, texture, density, and shape of the leaves. These details affect the appearance and the durability of the artificial grass itself. Pay special attention to the height of the fibers and form, the composition from which it is made, and what resistance it has to intensive use. It is important to check the price and make sure where the artificial grass is produced.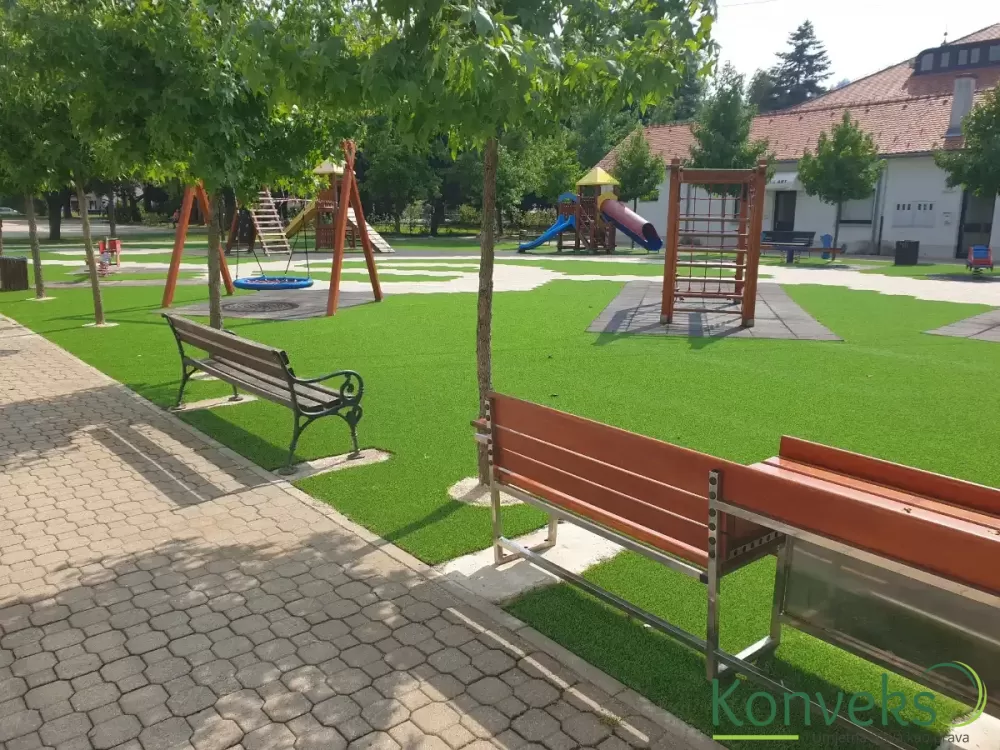 Do you sell artificial grass that is produced in the EU?
In our offer, we have exclusively artificial grass from European manufacturers that guarantee production in the European Union using exclusively European raw materials.
How healthy is artificial grass?
The artificial grass we install comes with a certificate that guarantees safety for children and pets and does not contain lead or cadmium.
Is the artificial grass fireproof?
Our artificial grasses are non-combustible.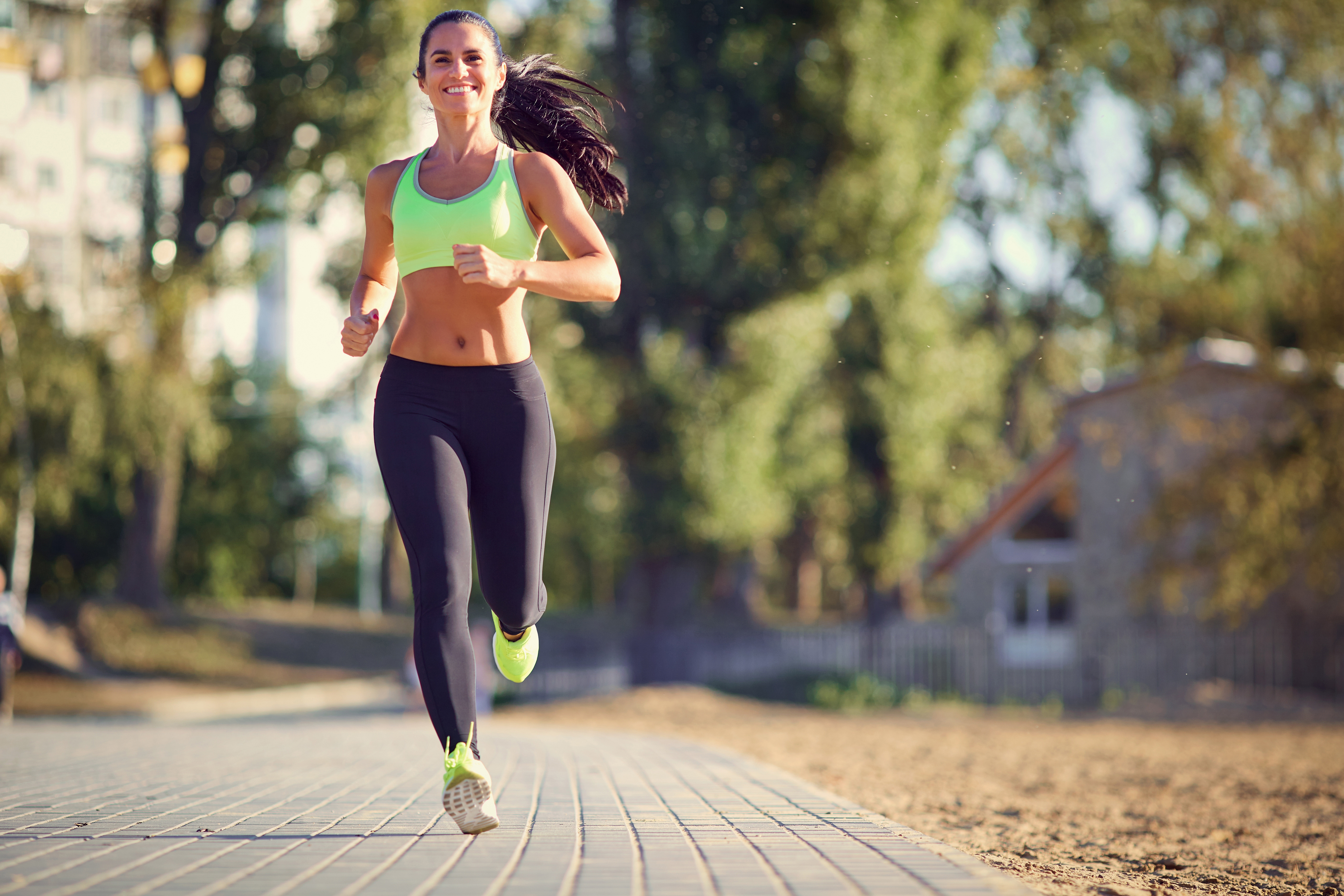 What is the warranty on the delivered artificial grass?
Artificial grass comes with a manufacturer's warranty of 6 years, and it refers to the fact that during this period there will be no loss of fibers and no significant change in the color of artificial grass.
How demanding is the maintenance and cleaning of artificial grass?
Maintaining artificial grass at your holiday villa is actually very easy and does not require much time or extra money. To make the lawn of your holiday villa in Croatia look beautiful, you need to remove dirt from it. Like you would maintain any other surface in your yard. It is necessary from time to time to collect branches and other objects caused by the wind, pick up leaves, pine needles, and animal hair. You can use an ordinary broom, vacuum cleaner, or plastic rake. Also, from this season, you can find specialized machines for the maintenance of artificial grass in our store. These machines made by Garland are used to easily collect dirt from the lawn. We like to recommend that after the season, the grass is combed to lift it and to extend its life.
In your opinion, what are the annual savings in the costs of maintaining and cleaning artificial grass compared to real grass?
Savings with artificial grass come in a variety of forms. One of the forms of saving, and perhaps the most important, is saving on the time you would otherwise spend on mowing, watering, feeding the real lawn of your holiday villa in Croatia. In addition, you save on the water needed to water the lawn. There are also savings on the installation of irrigation systems within the villa. It is difficult to determine exactly how much is the total annual financial savings for the owner of holiday villas in Croatia. It depends on many factors, from geographical location, weather conditions, methods of use...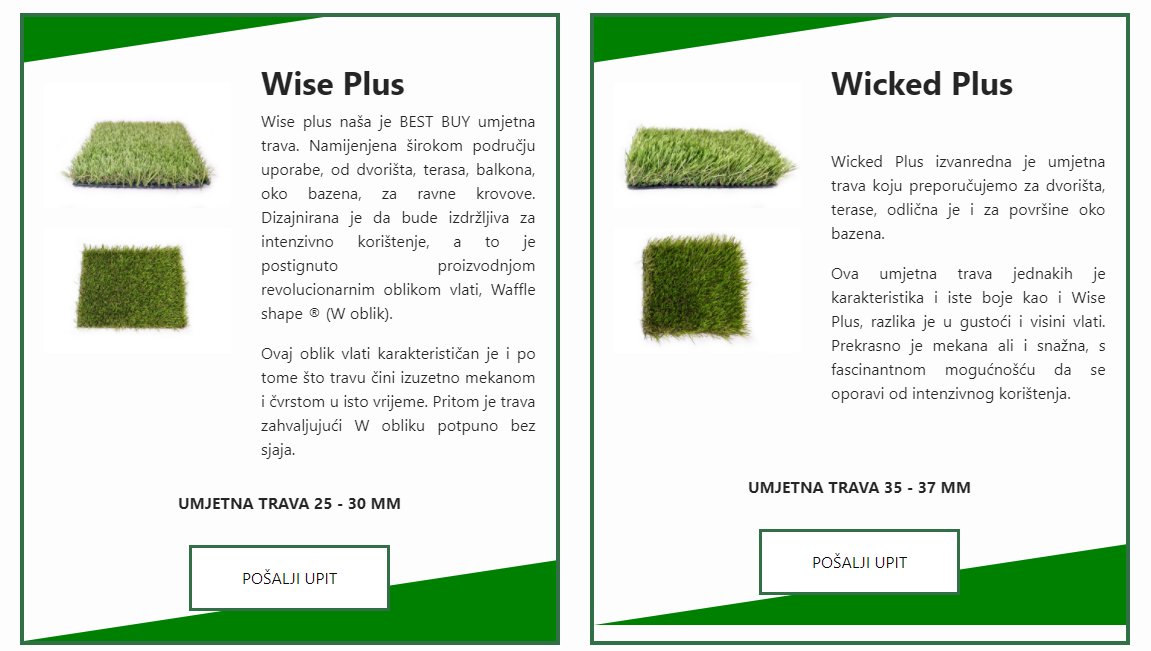 What is the best-selling type of artificial grass you have in offer?
We can single out four best-selling models from our large offer of artificial grasses.
Wise plus artificial grass intended for a wide area of use, from courtyards, terraces, balconies, around the pool villas, for flat roofs. It is designed to be durable for intensive use, and this has been achieved by producing a revolutionary fiber shape, Waffle shape ® (W shape). This shape of the fiber is also characteristic in that it makes the grass extremely soft and firm at the same time. Thanks to the W shape, the grass is completely gloss-free.
Super Natural, as its name suggests, is really like the real thing. It was created by careful study of real grass in which it is clear that each fiber is of a unique shape, length, thickness, and color. That's why Super Natural is perfectly imperfect. This artificial grass is distinguished by the fact that it contains a large number of different forms of fibers and contains significantly more shades of colors, up to eight different colors in one product.
Wicked Plus is an excellent artificial grass that we recommend for yards and terraces. It is also great for the areas around the pool on holiday villas. This artificial grass has the same characteristics and the same color as Wise Plus. The difference is in the density and height of the fibers. It is beautifully soft but also strong, with a fascinating ability to recover from intense use.
The artificial grass Samba is part of the C-Squared collection obtained by merging two C shapes, one next to the other in the same thread. By combining the two forms of C leaves, artificial grass was obtained that is completely dull, with a beautiful silky impression and incredible elasticity. This grass is up to four times stronger compared to conventional rectangular fibers. On hot days, this artificial grass has up to 20% less heat storage.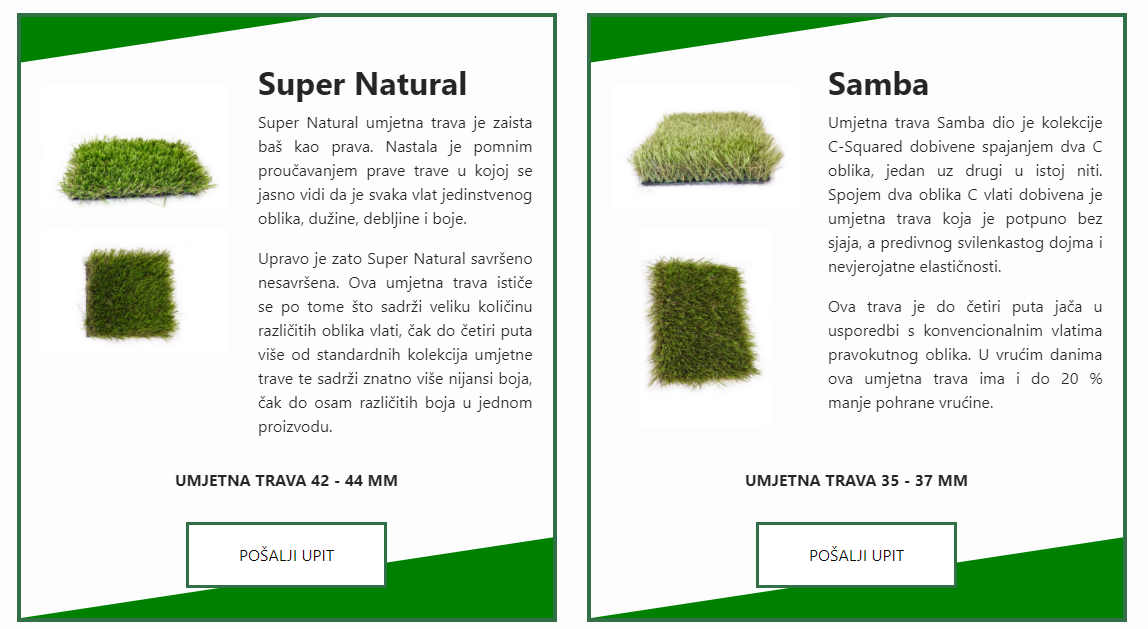 What do villa owners say after you do your job and what is the feedback?
People are simply thrilled after we place artificial grass on their holiday villas in Croatia. The transformation of the environment that we achieve in just a day or two is the first thing that delights every investor. In two days, people get a fully prepared villa for the season, or a fully functional garden. The main advantage is easier maintenance and much better use of the outdoor space of the holiday villa. There is no longer a part of the yard that should not be trampled on due to the possibility of destruction. Villa investors often contact us years after the job is done to share with us their satisfaction with the decision to install artificial grass on their holiday villas in Croatia. These are often completely unused yards that have become the main venue for all events after installing artificial grass. How satisfied people are is best shown by the fact that for years we have had numerous customers who install artificial grass on every new villa in Croatia in which they invest.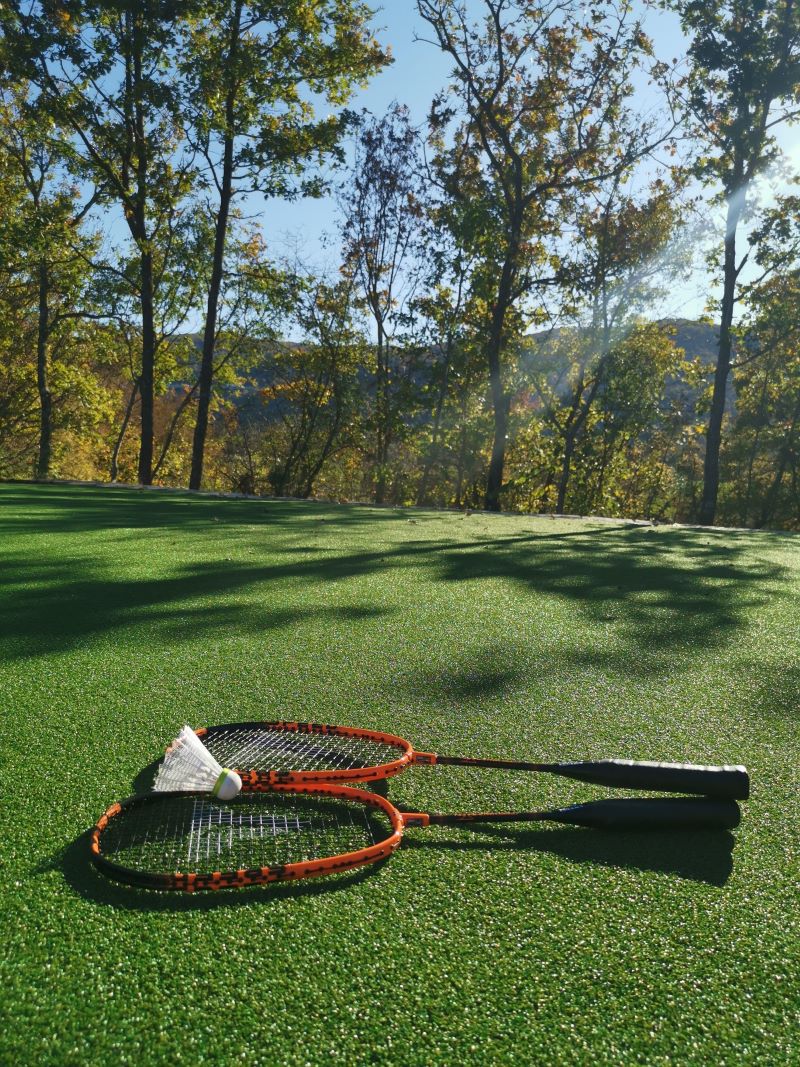 ---
We hope that we have helped you with the answer to some of the questions related to placing artificial grass in the yard of your holiday villa in Croatia. For all additional questions, feel free to contact the Konveks team, and to make your villa part of the Home Rent villas offer in Croatia, feel free to contact us. More information and advice for owners of villas in Croatia can be found on our blog page Croatia in style.
Croatia in Style
Croatia Travel Blog