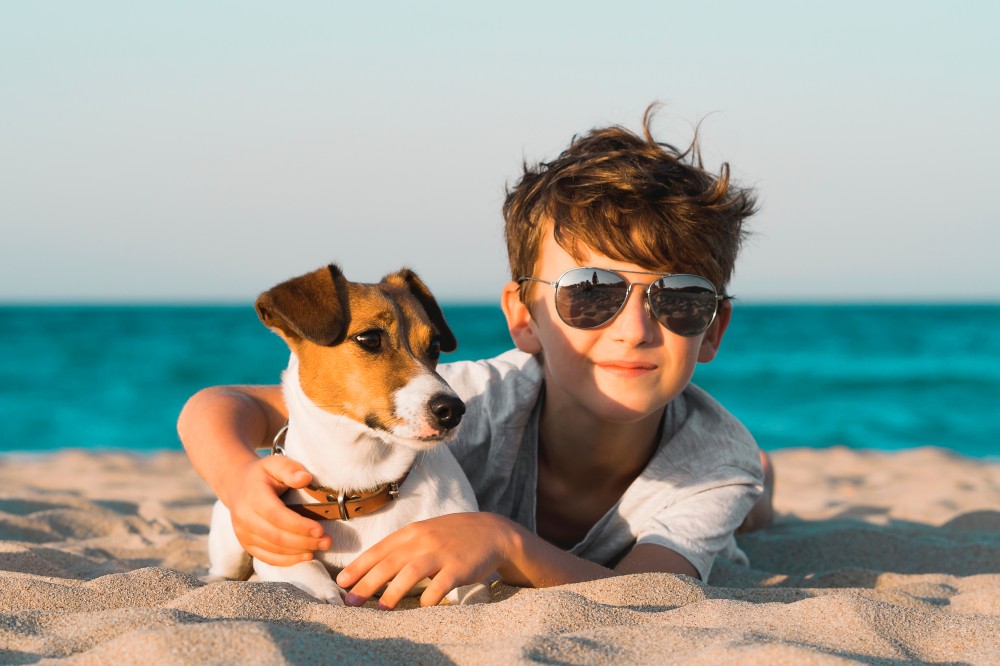 Pet friendly beaches in Croatia
Pet friendly beaches in Croatia
Guests often ask about pet friendly villas in Croatia as they would like to bring their furry friend with them on holidays. Croatia is an ideal choice for a pet-friendly vacation. Along many pet-friendly villas in Croatia, each year there are more pet friendly beaches as well. 
Whenever a beach is not clearly marked with a sign that says that dogs are not allowed, theoretically your dog can go for a swim there. In practice, it is different because even when it is not prohibited, it can often happen that one of the bathers complains or that the infrastructure is simply not suitable for a dog, especially if there is no shade. As not everybody likes to be swimming or sharing their beach with a dog many destinations have now opened special beach section or even entire beaches as dog beaches. By these beaches you would normally find a blue sign with a dog, illustrating that you may bring your dog to the beach. Most of these beaches are located in the North Adriatic while along rest of the coast their number is increasing each year.
There is large number of dog beaches in Istria. In Umag, pets can go on every beach inside the camps: Park Umag, Finida, Pineta, Kanegra, Stella Maris and Savudrija. In Novigrad, the Sirena campsite has a designated area for dogs, as well as the Amaris Maravea camping and the Aminess Laguna resort. Vrsar and Funtana also dispose of pet friendly beaches in camps. All camps in Poreč have portions of their beaches designated for dog fun. Rovinj has designated areas for dogs - Lone, Cuvi, Kaštelan, Veštar and Cisterna, and beach Škaraba by the quarry in the Park Forest Golden Cape. Places available for dogs, in Premantura, are the campsite Stupice and the entire Cape Kamenjak. Rabac offers part of beautiful Girandella beach for dogs.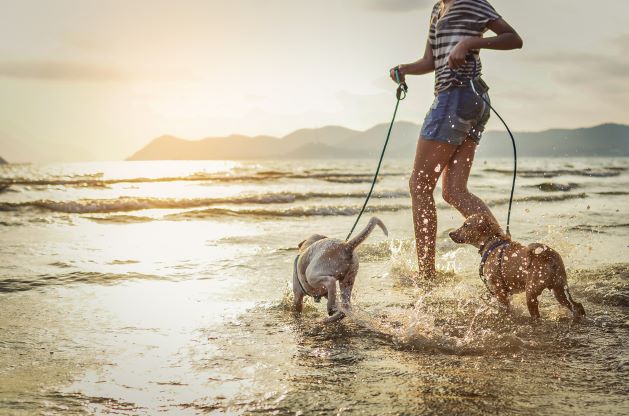 On Kvarner you will find many dog-friendly beaches, including the most famouse one in Croatia. That is Podvorska beach in Crikvenica, an amazing place designed specifically for dog and their owners! This dog paradise beach has been announced as the world's most equipped beach for dogs in the world by the New York Post. There are sun shelters for dogs and showers intended exclusively for four-legged bathers as well as watebins, public parking and lots of natural shade. Beach also has Monty's dog beach & bar where your dog can get an ice-cream, pizza, a beer or a cookie specialy made for them. You dog can play with toys, use water bowls or paw pads, and after a day spent sunbathing and swimming, they can have fun at Monty's dog park before going home. Beach also has toilets, WiFi, changing cabins, showers, umbrellas and sunbeds, as well as gastro offer. Recently, they opened a second location, in Rab town on the Rab island. Rijeka has a few dog beaches (Brajdica, Igralište, Mikulova in Kostrena), there are a few in Opatija and each of the Kvarner island's also has a number of beaches for their four-legged guests. Island Krk offers beach for dogs near the hotel Coral / at the diving center 'Neptune' and the cape Silo. Island Lošinj has various locations on the stretch of beach Veli Zal to Lanterna.
As you go more to the South, the number of dog-friendly beaches goes down, unfortunately. Zaton Holiday Resort in Zadar has a section of the beach designated for dogs. in Šibenik pebble beach By the old school located in the city center is dog friendly. Rogoznica's Hotel Resort Marina Frapa has a section of their beach designated for dogs. Duilovo and Kašjuni beaches in Split are the biggest dog-friendly beaches in the town. Kaštela near Trogir also recently became full dog-friendly, with several dog beaches with the equipment you might need for a nice day at the beach. In Dubrovnik visit Slano, as all of their beaches allow dogs. On the islands there is an amazing dog beach called Vartalac in Komiža on Vis, there's a dog beach near Bol on Brač and a portion of Zaraće beach on Hvar is also dog-friendly.
Weather you go to dog beach or just taking your dog somewhere a side, make sure to bring enough water with you for your dog and you as well. If beach doesnt have a sun shelters or natural shade make sure you bring your dog in early morning or late evening when sun is not so strong. If your dog is light skinned or has ligh hair, make sure you use sun screen for dogs. And of course, treat them with a snack on the beach after hard work of swimming! 
If you are looking for a pet-friendly holiday villa in Croatia, be sure to check out Home Rent offer of villas in Croatia. With Home Rent you can book holiday villa in Croatia for your perfect holiday.
Croatia in Style
Croatia Travel Blog