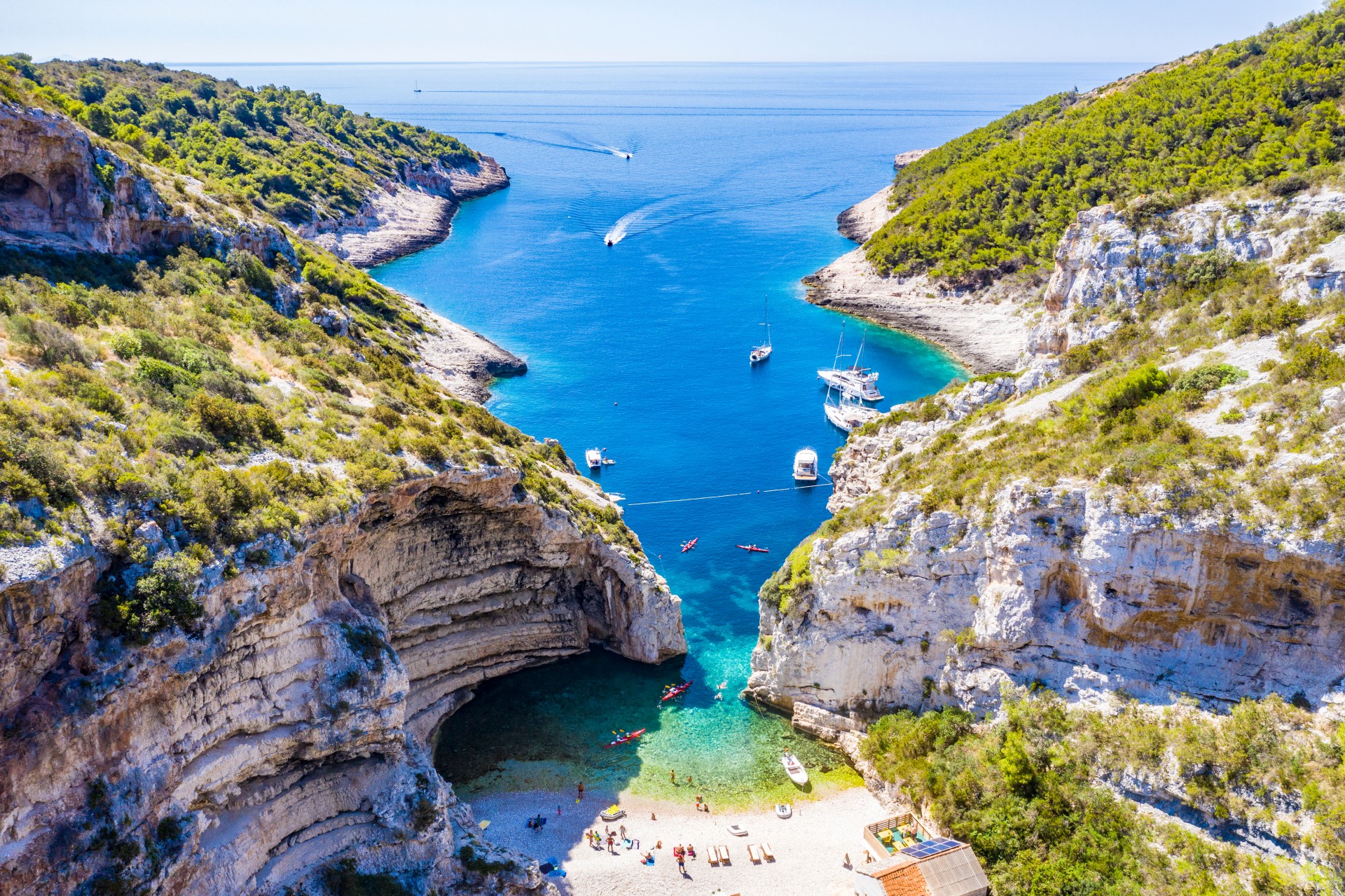 Stiniva Beach
The Adriatic coast abounds in beautiful beaches, and judging by the decision of those who love them, Stiniva was declared the most beautiful in Europe in 2016, and since then its popularity has only grown. Located on the south side of the island of Vis it can only be reached on foot or by boat. It is believed to have been formed by the collapse of a former cave, and today it appears to be hugged by rocks. Since 1967 it is a protected part of nature in Croatia under the status of a significant landscape.
If you are coming on foot you have to walk a steep path and watch every step to avoid getting injured or slipping. The descent can take about 20 minutes. Sure, it's easier than climbing back, but you just forget it all when you see the crystal clear turquoise sea and big white pebbles. Since the second access is only possible by boat, there are many boats that anchor directly in front of the bay or in the bay if it is a smaller boat.
The bay is positioned so that thanks to the high rocks surrounding it, it provides shade at any time of the day. There is one restaurant in the bay where you can look for refreshments. With that in mind, bring enough water and food to spend a pleasant time in this piece of Vis paradise.
If you have chosen for your accommodation one of the holiday villas in Dalmatia, and especially the holiday villas in Kastela, holiday villas in Split or holiday villas in Podstrana, we certainly advise you to make a day trip by boat from your luxury villa and set out to discover all the beauty of this beautiful beach. Home Rent offer of villas in Croatia and villas in Dalmatia can be found here. For additional useful information about your holiday in Croatia and tips on how to book your perfect luxury villa in Croatia, click here.
Croatia in Style
Croatia Travel Blog