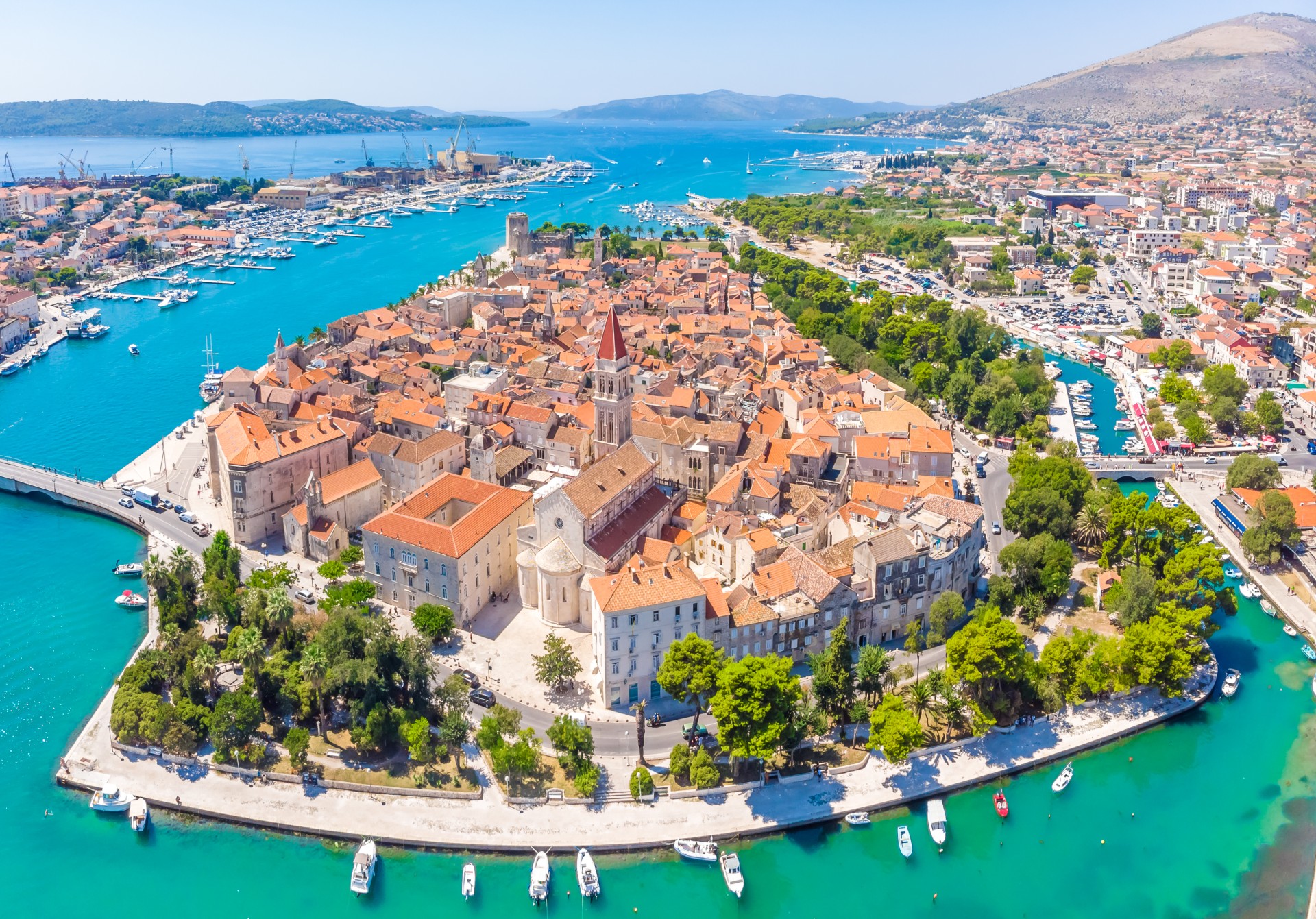 Trogir, Small Town of Great Beauty
Trogir, Small Town of Great Beauty
Trogir is usually next on list of sightseeing after Split for all tourists staying in its wider surroundings. This "island town" located between two bridges can be walked around in almost 30 minutes. Although it sounds small, so much fits within that small scope of the old town and historic center. In 1997, UNESCO recognized the beauty and importance of this charming little town and included its old town on its list of cultural heritage. 
The city walls date back to the 15th century within which are some of the most important sites for sightseeing. The first on the list is certainly the Cathedral of St. Lawrence which was built on the site of an ancient church destroyed by Sacarcen. Construction was completed around 1500. The most famous is actually the entrance, i.e. the portal of the cathedral carved by Master Radovan and the 47 m high bell tower. Immediately opposite the main entrance to the cathedral is the Ćipiko Palace, named after the famous Ćipiko family who lived in it and who had it thoroughly renovated in the 15th century. It is best known for its southern façade, designed by Nikola Firentinac, and for its Renaissance courtyard with galleries. When you make your way to the sea and walk across the waterfront promenade, so called Riva, you arrive in front of Kamerlengo Tower, which was used to defend the sea channel and the access to the port. Next to the tower is the playground of the local football club.
Wandering the streets of the old town you can taste local Dalmatian seafood specialties that will smell at every turn or you can book a trip to the nearby islands. Trogir is an ideal starting point for visiting the nearby Krknjaši, Šolta, Brač or Čiovo. If you want to feel the local atmosphere be sure to visit the local market. You can buy souvenirs but also try and buy local products such as dried figs, arancini, Trogir ravioli, olive oil and homemade prosciutto. When you want to swim, be sure to visit the beach Medena, Okrug Gornji or Labadusa on Ciovo.
The combination of cultural and natural beauties and the ideal location of the city of Trogir, located only 3 km from the airport, makes it more the primary destination of a growing number of tourists, and not just a stop for sightseeing. 
Trogir and its surroundings, and especially Okrug Gornji and Okrug Donji, are definitely settlements with an excellent offer of luxury villas, which is increasing every year, because work on new luxury villas in Trogir and luxury villas in Okrug never stops. Apart from the exceptional beauty, the surroundings of Trogir are known for their beautiful sea and a large number of luxury villas with private pools and sea views. The offer of luxury villas in Trogir and its surroundings is really great and if Trogir is your next destination, be sure to check out the offer of luxury villas Home Rent agency here.
Croatia in Style
Croatia Travel Blog