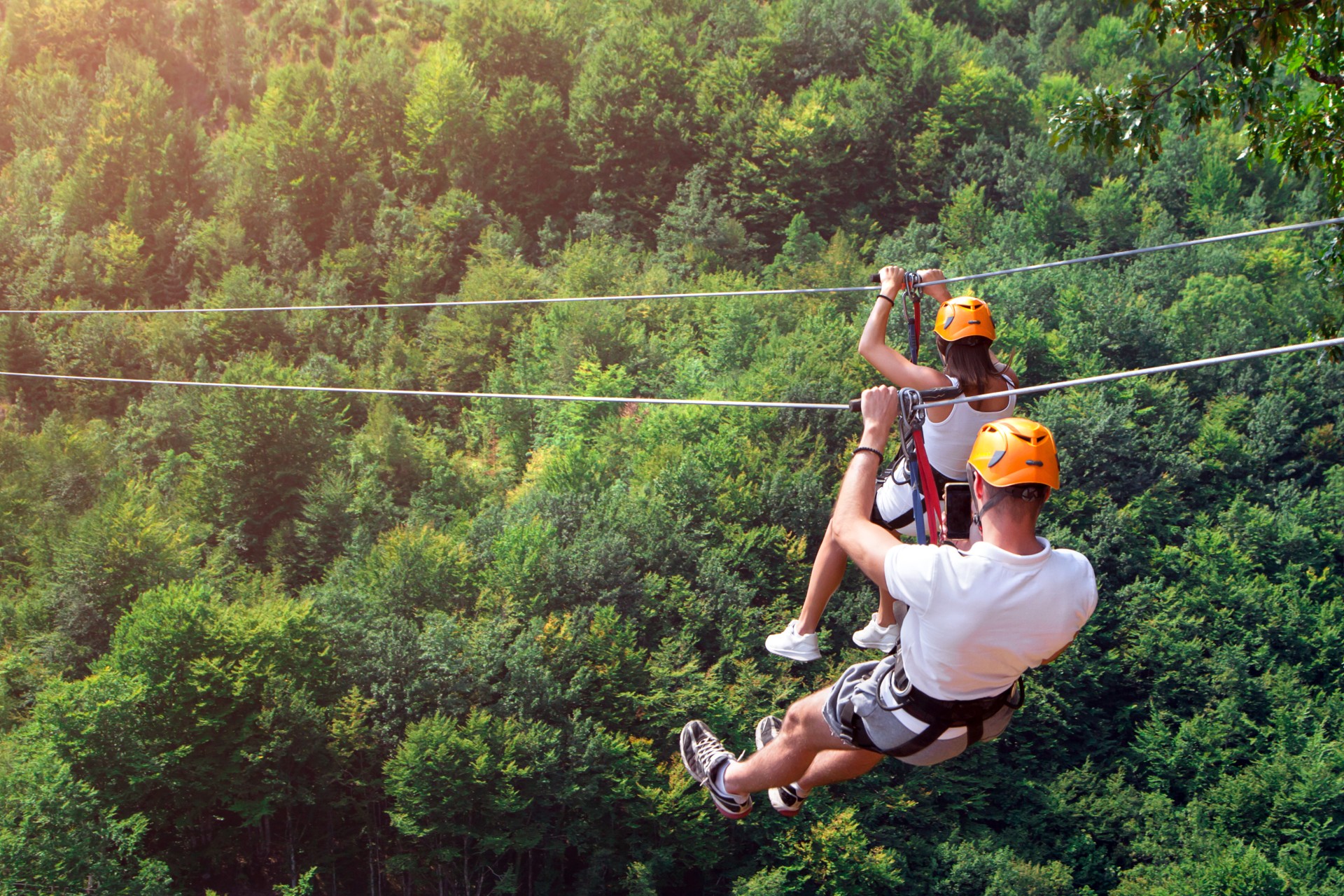 Zipline in Dalmatia
Fans of adrenaline and panoramic views can come to their own in Dalmatia. Zipline is available in three locations, and they are all, to say the least, perfect.  All locations have stunning panoramic views of the sea and / or rivers, and you descend surrounded by woods and greenery under the sunny blue Mediterranean sky.
All Zipline excursions in Dalmatia last several hours, and the locations on offer are Šibenik, Split (Solin) and Omiš.
The Šibenik zipline is located above the canyon of the river Čikola. The view of the landscape of the Čikola river canyon is breathtaking, especially if you look at it from a height. All zips are a total of 1.4 km long and are located at 120 to 130 m above sea level. Enjoying the view of beautiful nature on three lines of 250, 500 and 650 m you can accelerate up to 70 km / h. The trip lasts 1 hour plus the time you spend in the transfer.
Split zipline is located in Solin on the mountain Kozjak with a view of Split and the entire Split Bay. The trip lasts a total of 3 hours. Six cables with a total length of 2,5 km and one suspension bridge of 90 meters through a beautiful dense pine forest are installed. While waiting between each zip, you will enjoy beautiful views of the rural Dalmatia and the Adriatic Sea.
Omiš Zipline is located in the canyon of the river Cetina, 3 km from Omis. It consists of 8 cables with a total length of 2,1 km at 150 m above sea level. It offers a view of the river Cetina, its canyon and the hinterland of Omis. The trip lasts a total of two hours.
Dalmatia is really known for its natural beauty and diversity of nature, but it is also known for its villas offer where you can choose accommodation in some of the most beautiful villas in Croatia. Therefore, all adrenaline lovers with the Home Rent offer of holiday villas in Dalmatia will certainly be able to book something to enjoy your holidays. How to choose and book villas in Croatia and why use Home Rent agency can be found on our blog by clicking here. Home Rent blog reveals other adrenaline pleasures in Croatia.
Croatia in Style
Croatia Travel Blog