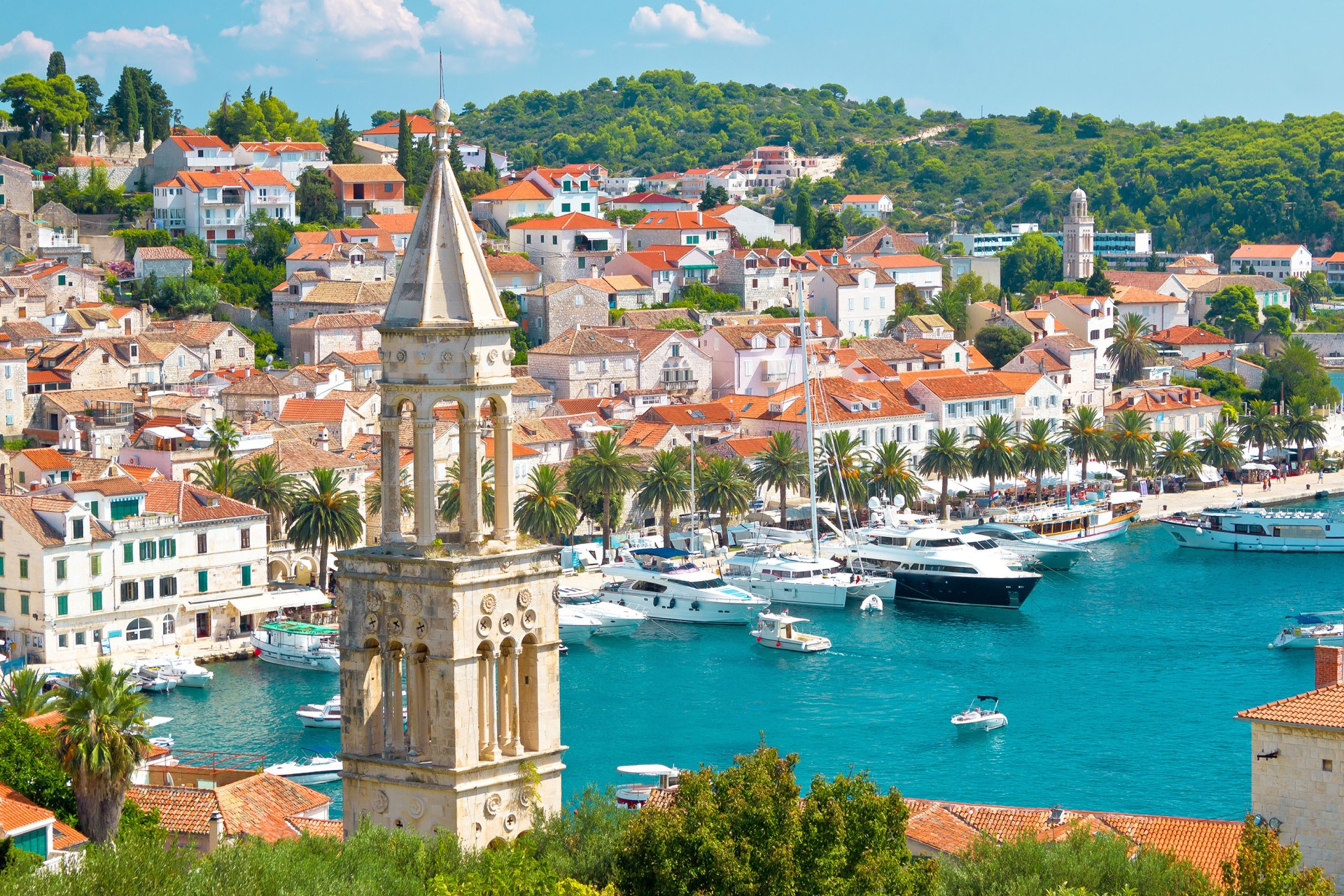 Island of Hvar - the most popular Croatian island
Island of Hvar - the most popular Croatian island
Known as the sunniest island in Croatia, Hvar belongs to the group of central Dalmatian islands. Due to the large number of sunny days, it is often called Sunny Hvar. Thanks to its natural beauty, ideal climate and rich offer of various contents for all generations, it has become the most famous Croatian island in the world. The island of crystal clear sea, lavender fields, excellent local wines and beautiful bays attracts tourists from all over the world. It is often the destination of world-famous stars, and its beauties have already met Beyonce, Bono Vox, Tom Cruise, Giorgio Armani, Prince Harry, Roman Abramovich, Eva Longoria and many others. In addition to numerous natural beauties and beautiful coastline, the island of Hvar has a very rich historical and cultural heritage that adorns places throughout the island and testifies to the rich and turbulent history. The island of Hvar has been inhabited since prehistoric times, and the Greeks founded the ancient city of Faros (today Stari Grad) on the island. You can also get to know the beauties of this most famous Croatian island. Whether you are staying on the mainland in one of the luxury villas in Croatia or on one of the Croatian islands, you can experience at least a part of the beauties of this magnificent island with daily connections and excursion offers.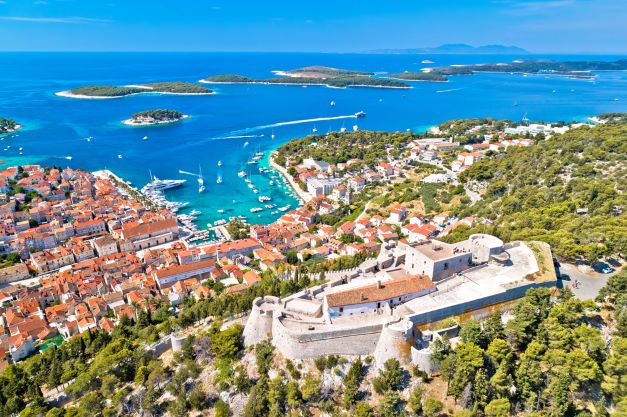 How to reach Hvar?
The airports in Split and Dubrovnik are the closest to the island of Hvar. Dubrovnik is about 100 km away from town Drvenik (ferry Drvenik - Sucuraj). Buses from Dubrovnik to Drvenik or Split run very often (every half hour during the season), or you can take a car rental or taxi. The airport in Split is 30 minutes away from the ferry port in Split, connected by buses, direct transfers and taxis. From there you can continue your journey to Hvar by ferry or catamaran  to Starigrad, the town of Hvar or Jelsa. You always have the option of direct transfer by speedboat from the airport if you want a fast and private transfer to your luxury villa on Hvar.
If you are traveling to Hvar by car, depending on the direction of arrival, you should go via Zagreb on the A1 highway or the Adriatic Highway, to Split ferryport or Drvenik ferryport on the Makarska Riviera. From Split you can go by ferry to Stari Grad (105 minutes) or from Drvenik to Sucuraj (25 minutes). Both ferries carry cars. You should choose ferryport depending on your final destination on Hvar. Catamarans also run from Split to Jelsa and Hvar. There is also one catamaran line from Dubrovnik. 
If you are planning a day trip to Hvar from one of the luxury villas in Dalmatia, you can book it in Split or Makarska with daily departures during season.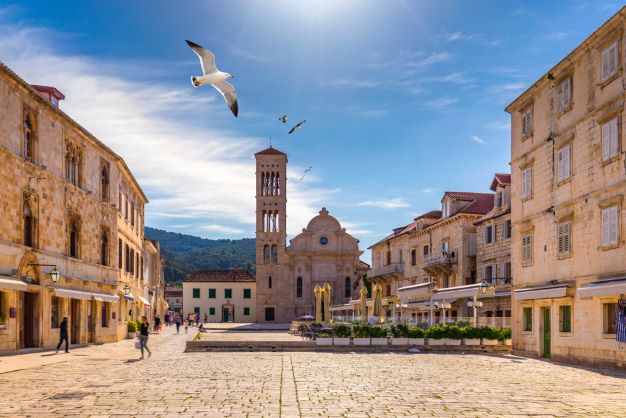 What to see and do?
The main lookout point of Hvar with a beautiful panoramic view is the Spanjola 
- Spanish Fortress, which is located above the northern part of Hvar, on a hill about 100 meters high. The people of Hvar call it Fortica (from the Italian Fortezza). In the past, Spanjola, with its city walls, was the central defensive fortress of the town of Hvar and the century-old protector of the town and port. The walk from the center of Hvar to the fortress takes about 20-30 minutes, and you will find an incredible view of the city rooftops, the crystal blue sea and the coastal archipelago. One of the most impressive buildings in Hvar is certainly the Arsenal, originally used as a storage and service building for Venetian ships, and today it houses the oldest theater in Europe. Today it is also a famous exhibition and gallery place. The central square of Hvar or Pjaca is the largest square in Dalmatia. Originally a deep bay, the Square was completely paved in 1780. The Benedictine monastery offers an original Hvar souvenir, agave lace that is nurtured in the monastery and passed down from generation to generation and is on the UNESCO list as a cultural intangible asset. Petar Hektorovic Fortress, with a pond and a dovecote above it, is the most famous building in the Stari Grad place. This Renaissance poet built it all his long life and was as important to him as his literary work. In it, he realized the idea of a microcosm - a small, closed world in which all God's beings have space to live - fish, birds, plants and people (he, his friends, holy women, travelers and the poor). A visit to the lovely fishing village of Vrboska is a must. This incredibly picturesque resort is one of the most impressive vacation spots on the island. Due to the numerous stone bridges, it is often called "Venice of Hvar". Canal of Vrboska bay is a picturesque postcard full of beautiful houses along the canal and stone arch bridges. The beautiful beach Maslinica is located nearby in the area. When you get tired of sightseeing, relax and swim on one of the beautiful beaches such as Jagodna, Zaraće, Pokonji Dol or Paklenjaci.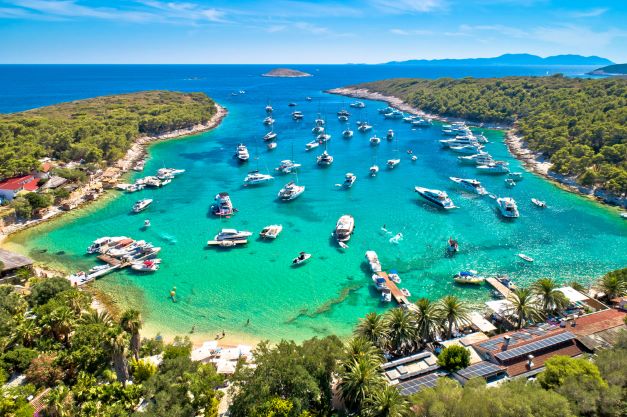 Pakleni islands are a group of about 20 islets and cliffs that stretch in front of the town of Hvar. The most famous island among the Pakleni islands is Saint Klement with the village and bay Palmizana. A spacious bay with a shallow pebble bottom, surrounded by dense pine forests and various exotic plants attracts day trippers from all over Dalmatia. There are several attractive restaurants nearby, and on the north side there is the ACI marina. You can choose one of the organized excursions to visit or you can rent a boat yourself and visit this paradise in your own arrangement because you do not need a permit to rent a small pasara. Another very popular and unavoidable excursion is a visit to the Blue Cave on the island of Bisevo. You can book a trip anywhere on the island. Lovers of nature and sports on Hvar can choose from a wide range of activities! Cyclists can enjoy thirteen arranged bicycle paths with a total length of almost five hundred kilometers, mapped and available online and in printed format. On the island you can rent bikes, quads and cars, of which the most popular option is to rent Volkswagen Beetles cabrios. You can also book an off road trip and parachute jumping! The beaches offer rental of pedal boats, kayaks and jet skis. Hvar is also known for its nightlife. The nightlife of the island of Hvar takes place mainly in the town of Hvar, which has become a city that never sleeps - at least not from June to September. In summer, the nightlife of the town of Hvar is one of the richest in the Adriatic. The city exudes a special atmosphere and there is always something going on. The fun lasts until late at night, and guests can visit numerous events, restaurants, taverns, clubs and the like. There is a large selection of places to go out, and if you are bored, or if you prefer places with less crowds, the ideal place is Jelsa (with several cafes and restaurants). Stari Grad and Vrboska are quieter settlements, as are other places on the island.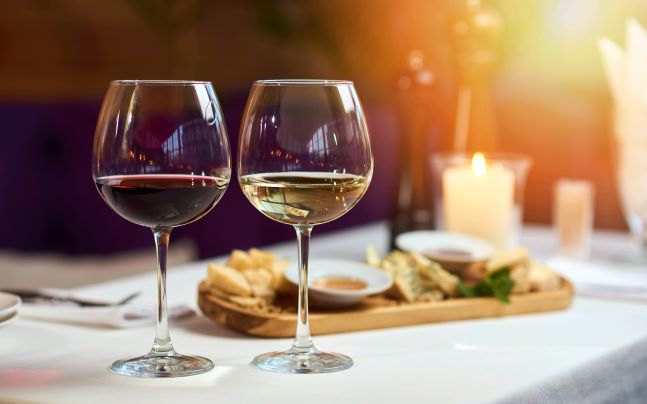 Gastronomy
Hvar is an island of the finest seafood delicacies and excellent local wine! In traditional restaurants or taverns you can find typical Dalmatian dishes such as: pasticada, "peka" (veal, pork, octopus), grilled lamb, octopus on salad, black cuttlefish risotto etc. Due to the abundance of natural fields and perfect climate (more of 2718 hours of sunshine per year), Hvar is known for one of the best red wines in Europe. So, if you like good wine, Hvar is your place. Hvar has a proud history of wine production since the ancient Greeks who planted the first vine on the islands in 384 BC, so there are many wineries to taste the island's wine varieties. Most wineries are located on the UNESCO Stari Grad Field, Jelsa, or those that cling to the steep slopes around Sveta Nedjelja. Popular wineries that we recommend you visit include: Duboković - Jelsa, Hvar Hills - Vrbanj, Pinjata - Vrboska, Plančić - Vrbanj, PZ Svirče - Vrbanj, Tomić - Jelsa, Zlatan Otok - Sv. Sunday. As everyone loves to try locally on their travels, be sure to try local olive oils and lavender products. In the end, what is better than edible souvenirs for family and friends ?!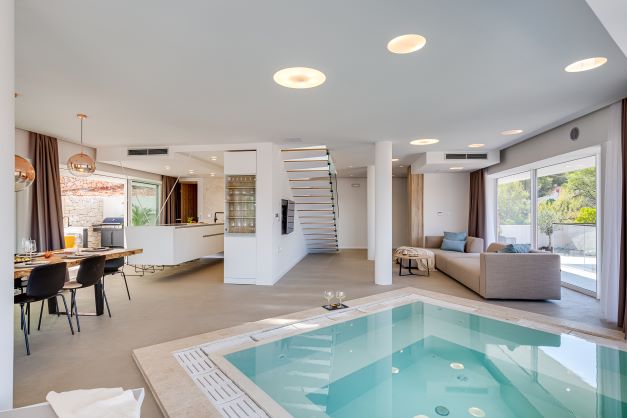 Accommodation
Due to its reputation and status, Hvar has an excellent offer of luxury villas for rent. These are top luxury villas in Croatia that offer everything a guest needs in this great destination. Luxury villas on Hvar can offer guests beautiful private pools, well-appointed terraces, traditional and modern architecture, many additional facilities and friendly and professional staff. If you want to spend your summer on Hvar, be sure to check out Home Rent offer of luxury villas on the island of Hvar here.
Croatia in Style
Croatia Travel Blog