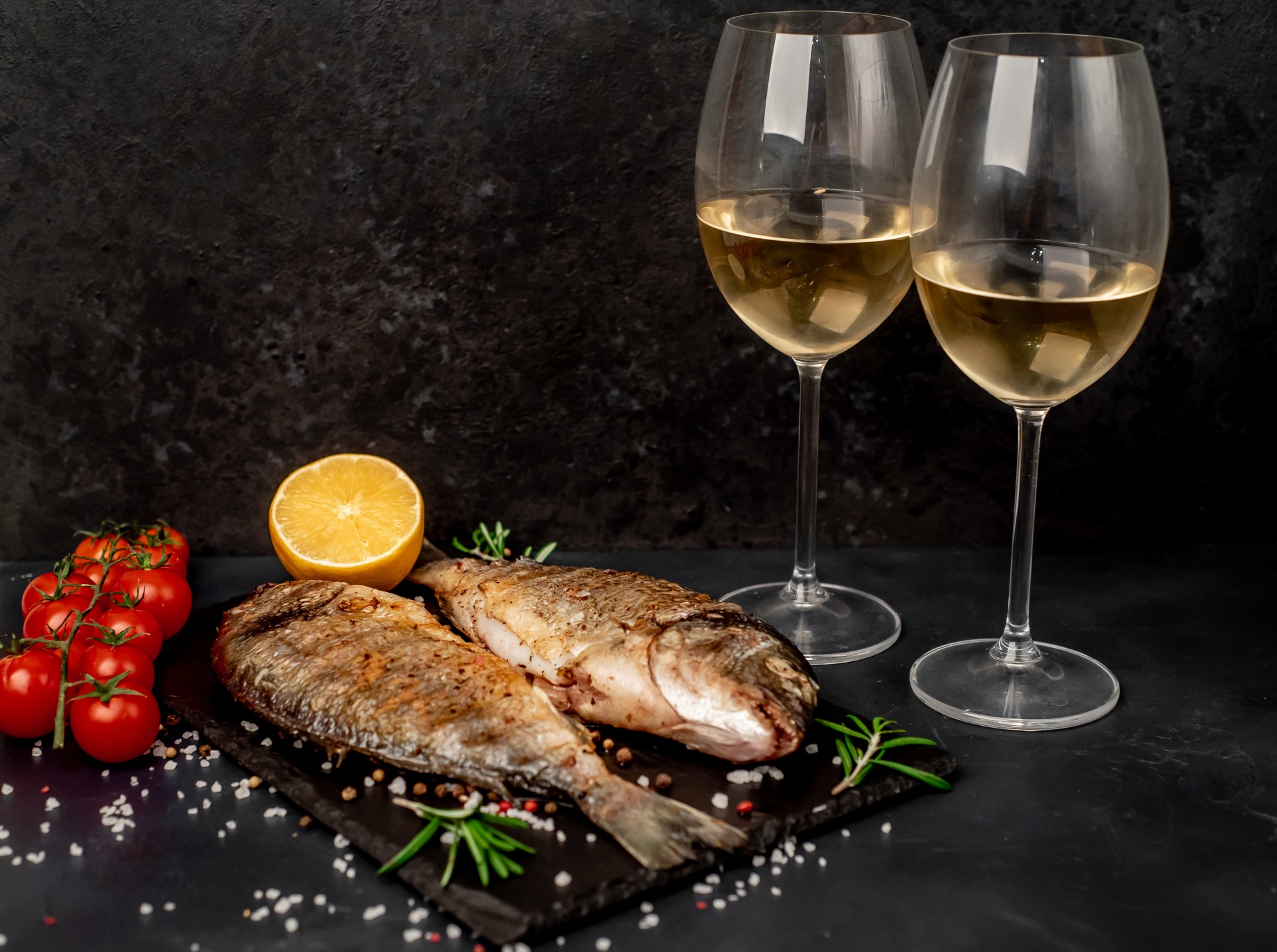 Traditional Croatian Food
Traditional Croatian Food
In addition to the beautiful coast, islands and sea for which Croatia is famous, it also abounds in various gastronomic delicacies. Due to its turbulent past, Croatian gastronomy has developed under the influence of various nations throughout history. Continental Croatian meat and vegetable dishes developed mainly under Hungarian, Viennese and Turkish influence, while on the coast cuisine was influenced by Rome, Greece and the Republic of Venice. Today, gastronomy in Croatia regionally differs significantly because of this. That's actually not a bad thing because Croatia offers gastronomic delights wherever you are! Thus, on the Adriatic coast or on the Slavonian plain, you can experience two completely different culinary stories. The reason for these differences is not only foreign influence, but also the natural conditions of each region. Below is an overview of traditional Croatian dishes that we recommend you try while you are in Croatia.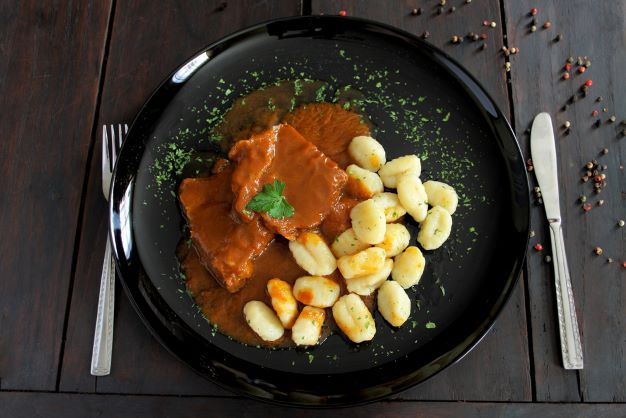 Gastronomy in Istria and Dalmatia
Considering that Croatia is the most popular destination in summer, guests enjoy the fish specialties of the Croatian coast the most. The Mediterranean diet is reputed to be one of the healthiest in the world, and this was confirmed by UNESCO when it included the Mediterranean diet on the Representative List of Intangible Cultural Heritage! Croatia, together with the other six countries of the Mediterranean, was gathered in an international nomination in order to preserve the Mediterranean diet as a valuable heritage. Based on slow cooking, fresh ingredients mostly fish, olive oil and a lot of herbs, the diet really contains the essence of health. The most popular fish specialty in Dalmatia is brudet. Brudet is prepared by cooking fish with spices, and it is said that there are as many recipes for brudet as there are Dalmatians. Everyone prepares it in their own way, but the basics are the same for everyone - it is tastiest with as many types of fish as possible. Monkfish, shrimp, prawns, cuttlefish, squid, grouper and mussels are most often found in brudet. A similar but not the same dish is buzara. Buzara is intended to preserve as much of the taste of the sea as possible, and is made mainly from one type of crab or shellfish. The most popular are shrimps on the buzara or mussels on the buzara. Buzara is prepared by stewing crabs or shellfish in olive oil and adding garlic, parsley, white wine and tomato. Along the coast, both in Dalmatia and in Istria, other classic dishes are popular, such as black cuttlefish risotto, pasta in various ways, most often with šalša (tomato sauce), and various grilled fish. The most popular of the meat dishes is pasticada. It is prepared from a beef leg, and according to the experience of many, the best part to prepare is the fricando, although it is equally good to prepare the rose. Pašticada is prepared by slow cooking previously marinated meat, and the meat is usually marinated with carrots, garlic, pancetta, plums and others of the choice. Pasticada is served with different types of dough, most often gnocchi. Roasted lamb on a spit is a special delicacy, mostly in Dalmatian Zagora where it is served in the taverns. If you find yourself in Istria, you will surely try at least one specialty with truffles. These precious mushrooms rule the gastronomy of Istria. They are most often combined with the traditional Istrian pasta fuzi or pjukanci, and there are many other products with which they are excellently combined, so you can also try cheese or honey with truffles. If you are a fan of eating with a spoon, then you must try Istrian Manestra. This vegetable stew is offered all year round, and it is excellently invigorating! When you want something sweet, you can try traditionally good krostule throughout Dalmatia and Istria, because each place has its own recipe that is somehow adapted to that area. Krostule are made from flour and cut into strips and then baked, and they are crumbly and excellent for a quick dessert. In Dubrovnik, it is a tradition to eat rozata for dessert, which is the Dalmatian version of the French creme brulee. Rozata is extremely aromatic and sweet, and it is named after the main ingredient - rose brandy. The old traditional desserts are arancini, dried figs and kotonjata which you can find in every local market. These desserts are proof that past generations knew how to use absolutely everything that nature gave them, without any leftovers or waste.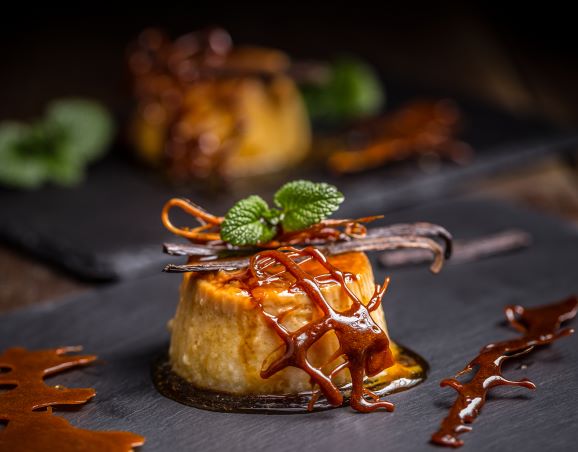 Gastronomy of Slavonia
If you are a meat lover, then a vacation in Slavonia will be a hit for you. Slavonic cuisine was developed mostly under Hungarian and Turkish influence, and the gastronomic tradition has been nurtured for centuries. Fertile Slavonian soil and a suitable climate for the cultivation of many crops nourished Croatia throughout the past. The hard-working people of Slavonia still cultivate the fields and engage in animal husbandry, which results in excellent dishes. Meat, vegetables and river fish are the main players in the cuisine of this climate. The most famous dish that you must try is cobanac. It is a type of spicy and hot soup dish that is cooked in a kettle or a larger pot, and it got its name from the shepherds who looked after the flocks in the field while the dish was being cooked. Cobanac is made from several types of meat, most often venison, beef and game. Along with the meat, vegetables and hot red peppers are cooked, which gives the cobanac its distinctive flavor and color. Slavonians also breed an indigenous Croatian breed of pig called the Black Slavonian pig. Numerous delicacies are prepared from it. The most famous pork delicacy is cvarci (cracklings). These are pressed pieces of pork fat obtained by melting bacon with skin. They are most often eaten with bread or in scones. Another pork delicacy is kulen. Considering the richness of the rivers, it is not surprising that river fish is eaten the most in Slavonia. Fish stew is prepared as a soup from river fish, most often it is carp. It is seasoned with red pepper, which gives it its distinctive red color and hot taste. Ordinary stew is more thick, and is prepared with fish or meat. If you are a vegetable lover or a vegetarian, don't miss to try sataras. It is actually a stewed vegetable that can be eaten alone, but also in combination with other dishes or as a side dish to the main dish. It is also great in summer as it is tasty cold as well. The main ingredients are tomatoes and peppers, along with other vegetables as desired. Sweet-toothed people in Slavonia must try salenjak. These are crumbly cookies whose ingredients include pork fat and are filled with jam.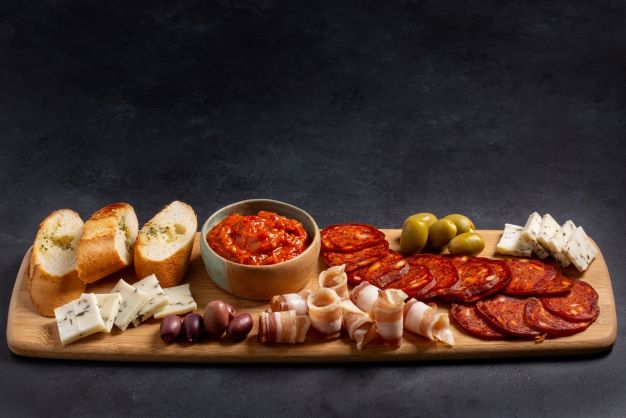 Gastronomy of Zagorje and Medjimurje
If you are a fan of historical locations, especially castles, then Zagorje and Medimurje are made for you. Trakoscan Castle is the best-preserved castle in Croatia, and the gastronomy of this region will delight you. Located above Zagreb, Zagorje has always been a favorite vacation spot for the people of Zagreb! Typical catering facilities in Zagorje are cottages, i.e. houses. Excellent home-made food is eaten in the lodges, and everything is seasoned with the exceptional kindness of the host! Traditional and hard-working, they base their gastronomic offer on cheese, cream, potatoes and cereals. As Zagorje was inhabited by noble families in the past, which you can witness today in the numerous castles in the region, today you can try dishes that were prepared at the court. First on the list of recommendations are Zagorje strukli. They are prepared from stretched dough that is filled with fresh cheese. They are cooked in boiling water, and there is also a version of seasoned strukli where they are topped with cream and baked in the oven. Since Zagorjes really like dough, the next on the list is krpice. Square-shaped pieces of cooked dough mixed with stewed cabbage are an excellent nutritious combination. Another traditional dish of Zagorje is buckwheat porridge. It can be said that the people of Zagorje have been very modern since ancient times! Buckwheat porridge definitely fits into today's style of living and eating, in which the importance of a healthy and balanced diet, many grains, including buckwheat, is emphasized more and more. Buckwheat porridge is eaten as a side dish, but also as a main course. Meat lovers can enjoy buncek in Medimurje. Buncek is the lower part of a pig's leg that is traditionally eaten with sour cabbage. Buncek is prepared by first boiling and then baking. When you're craving something sweet, you definitely have to try Medimurje gibanica. It is a layered cake made of puffed dough, and it is filled with cheese, walnuts, poppy seeds and apples.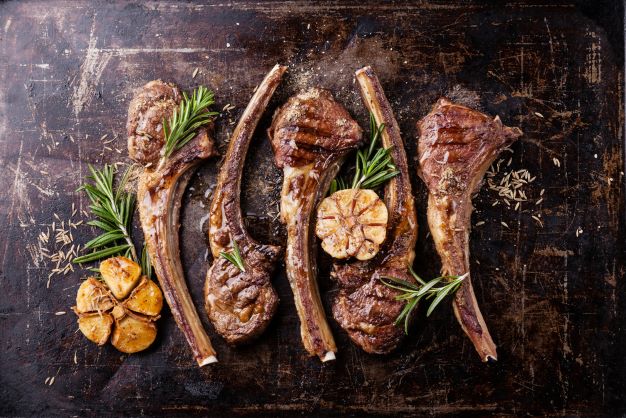 Gastronomy of Lika and Gorski kotar
Forest and mountain areas in Croatia are ideal destinations for lovers of active vacations. If you are looking for ideal destinations for an active vacation in Croatia, then the Lika and Gorski Kotar regions are it. Rich in natural beauty, mountains, caves, bike paths and climbing areas, they certainly offer a handful of activities, but after all that, the hosts will feed you really deliciously! Throughout history, these regions have been poor, and in fact, people have managed and cooked what they would have had in nature. The inhabitants of these regions had frogs, snails, river fish and mushrooms on their menu. Forest fruits would be eaten for dessert! Today, the gastronomy of Lika and Gorski kotar is somewhat different. Today, Lika is known for Lika lamb, and Gorski Kotar for its game. Lika lamb is prepared on a spit or under a baking sheet, and is served with potatoes and vegetables. Game is most often prepared in a stew with boar or deer meat and vegetables. In Lika, cooked smoked meat with sour cabbage is also served, and the people of Lika call it kalja. Pot of Lika is a traditional soup dish made of lamb or mutton with vegetables. In addition to meat, you can try trout from Gacka. Trout are prepared by grilling or baking in the oven. Snails are also a delicacy in these parts! Snails are eaten boiled, stewed or baked, all options are available. Cheese lovers in these regions can try several of them. Lika skripavac is a type of cheese that is protected by the European designation of geographical origin. It is most often produced from cow's milk, but it is also available from goat's milk. With it, you can try basa, a soft semi-fat cheese, also one of the autochthonous Lika products, and Tounjski cheese from Tounj near Ogulin, which is made from fresh cow's milk and smoked. After all, you can sweeten yourself with dumplings. Dumplings are a typical delicacy of these regions. These are dumplings made of potato dough, usually filled with plums or some other fruit.
A sensational gastronomic offer awaits you in Croatia, in whatever region you decide to stay. You can taste the traditional gastronomic offer in almost every place, because most of them have at least one restaurant or tavern that offers local traditional dishes. The catering offer in Croatia is varied and includes pizzerias, taverns and various restaurants, including those with a Michelin star. Most of them are located on the coast and you can check Michelin restaurants in Croatia on our blog.
If you are looking for accommodation in Croatia, a luxury villa in Croatia or a holiday home in Croatia, view Home Rent offer here and book accommodation in Croatia with the HomeRent agency.
Croatia in Style
Croatia Travel Blog