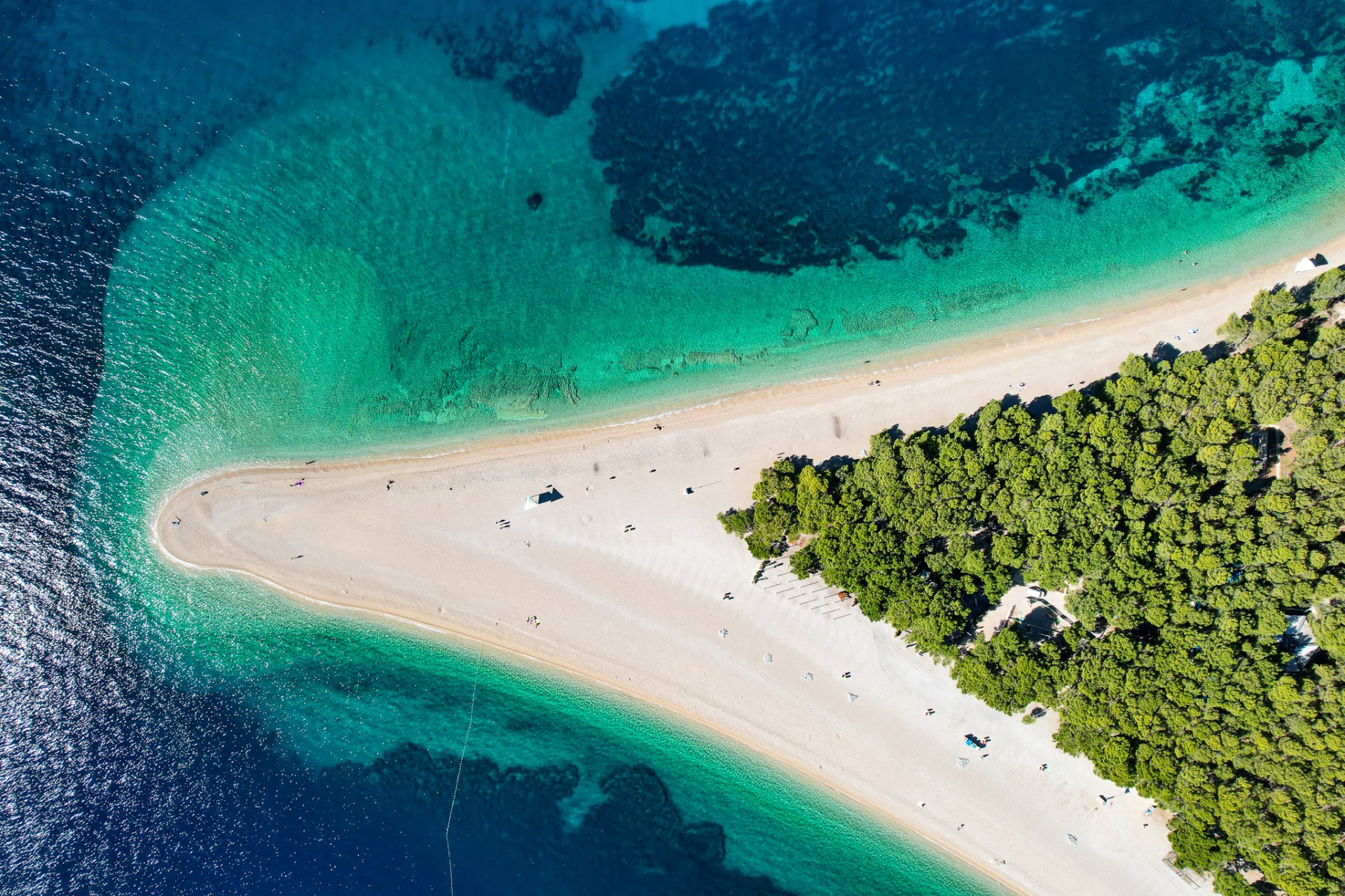 Destination Croatia - everything you need to know
Destination Croatia - everything you need to know
Home Rent is a Croatian tourist agency and we are experts in the field of tourism and travel. With our knowledge, we bring you answers to the most important and most common questions when it comes to destinations and vacations in Croatia.
Best time to visit Croatia?
The best time to visit Croatia depends on your preferences and the activities you plan to do. Generally, the summer months of June, July, and August are the most popular time to visit Croatia because the weather is warm and sunny, making it ideal for swimming, sunbathing, and outdoor activities.
However, if you prefer a less crowded and more affordable trip, consider visiting Croatia during the low season (May, September, and October). During this time, the weather is still pleasant, and you can enjoy many of the same activities as during the summer months, but with fewer crowds and lower prices.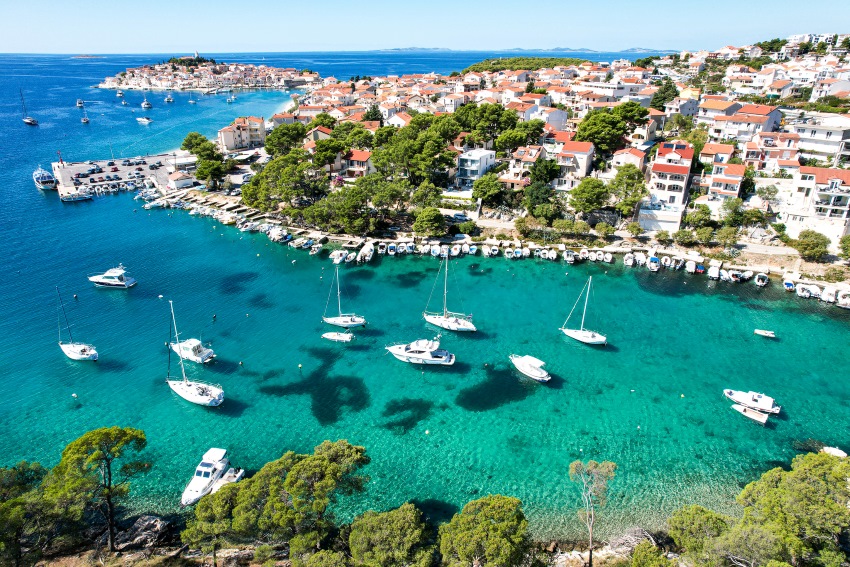 Primosten, Croatia
How to book accommodation in Croatia?
If you are a fan of holiday homes and luxury villas in Croatia, be sure to book your accommodation via the Home Rent Local Agency. We offer some of the best vacation villas with safe reservations and safe payment at the best prices.
What is the best month to visit Croatia?
It all depends on your preferences. If you are a lover of the sea and the sun then August is the best choice for you. If you are not a fan of summer crowds and high heat and yet you want to enjoy the sun and the sea then the right choice is September. In September, temperatures are still ideal for rest, but with much less crowds on the beaches and with cheaper accommodation.
The worst time to visit Croatia?
The worst period for visiting Croatia is November. The weather is generally very bad with lots of rain, low temperatures and stormy winds. Most restaurants in smaller coastal places have closed and the holiday options and fun are minimal.
The cheapest time to visit Croatia?
The cheapest time to visit Croatia is during the off season, which typically runs from November to March (excluding the holiday period around Christmas and New Year's Eve). During this time, you can find lower prices on flights, accommodations, and activities, as there are fewer tourists and demand is lower.
Keep in mind that some attractions and restaurants may be closed during the low season, and the weather can be cold and rainy, particularly in December and January. However, if you're interested in exploring the cities and museums, this can be a good time to do so without the crowds.
Our proposal is definitely April. During that month, prices are generally lower than in the peak summer season, and the weather is pleasant, making it a great time to visit if you want to avoid crowds and save some money.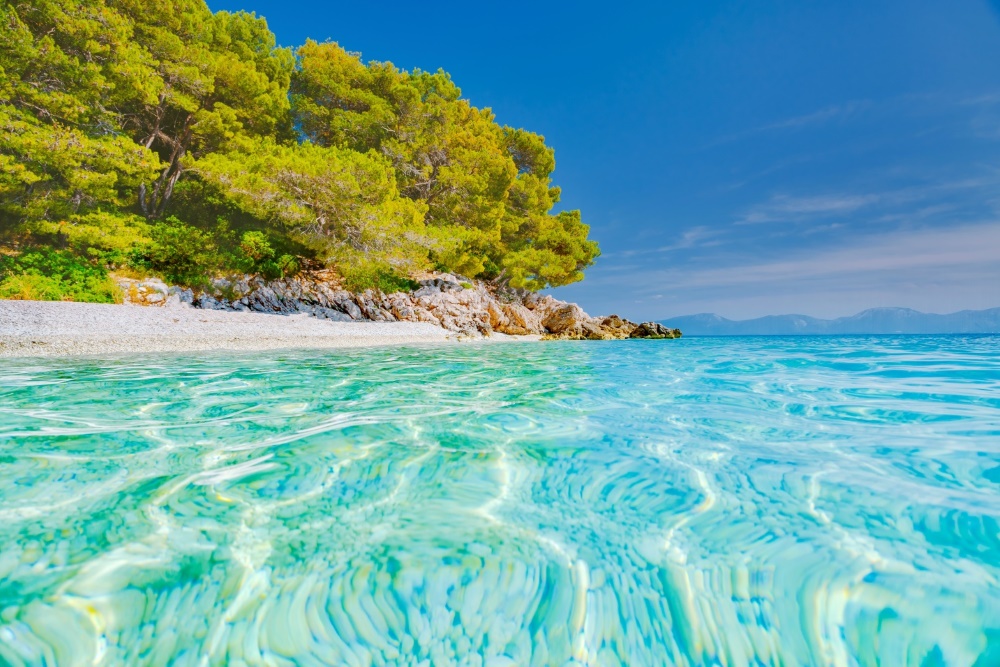 Brela, Croatia
How many days in Croatia is enough?
The number of days you should spend in Croatia depends on your interests and what you want to do and see while you're there. Here are some suggestions based on different travel itineraries:
If you're interested in exploring the cities and cultural attractions, spending 5-7 days in Croatia would be sufficient to visit the major cities like Dubrovnik, Split, and Zagreb, and see some of the main cultural and historical sights.
If you want to experience Croatia's stunning natural beauty, you may want to spend 7-10 days in the country to visit the national parks like Plitvice Lakes, Krka, and Paklenica, as well as the islands like Hvar, Brac, and Korcula.
For a more relaxed and leisurely vacation, you may want to spend 10-14 days in Croatia to have enough time to explore the cities, visit the islands and beaches, and enjoy the local food and wine.
Keep in mind that Croatia has a lot to offer, and there are many other destinations and activities that you may want to consider depending on your interests. Plan your trip accordingly to make the most of your time in Croatia.
When is the rainy season in Croatia?
In Croatia, the rainy season is generally in the autumn months from October to December. During this time, the weather can be unpredictable, with occasional heavy rainfall, thunderstorms, and high winds.
Is Croatia a cheap country to visit?
Croatia can be both an affordable and a relatively expensive country to visit, depending on your travel style and budget. In general, Croatia can be less expensive than other Western European countries, but more expensive than some Eastern European destinations. Prices can vary depending on the season and location within the country.
Here are some factors that can affect the cost of your trip to Croatia:
Accommodation: Accommodation prices vary depending on the location, season, and type of accommodation. You can find a range of options, from budget hostels and guesthouses to luxury hotels and villas.
Transportation: Public transportation in Croatia is generally affordable, with local buses and trains connecting the major cities and towns. Taxis and private transfers can be more expensive, especially during the peak season.
Food and drink: Dining out in Croatia can be affordable, especially if you stick to local cuisine and avoid touristy areas. Wine and beer are relatively inexpensive, while imported spirits can be more expensive.
Activities and attractions: Admission fees to museums, parks, and attractions can vary, with some being free while others charge a fee. Activities such as boat tours and water sports can also add to your expenses.
Overall, Croatia can be a reasonably priced destination for budget-conscious travelers, but it's important to research and plan your trip accordingly to stay within your budget.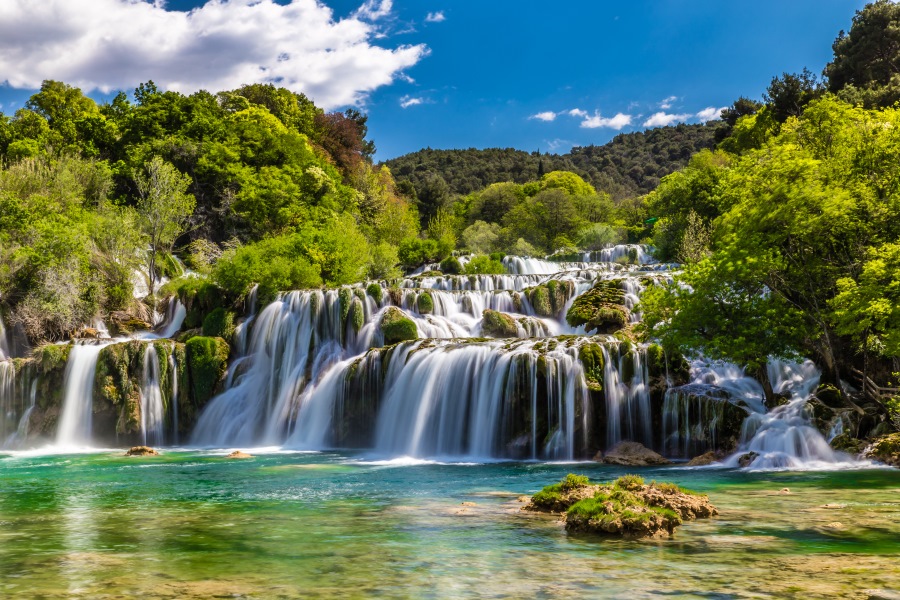 Krka National Park
When is the tourist season in Croatia?
The tourist season in Croatia is generally from June to September, with July and August being the peak months for visitors. During this time, the weather is warm and sunny, and most attractions, restaurants, and hotels are open.
The coastal cities and islands are particularly popular during the summer months, with visitors flocking to the beaches and enjoying water sports activities. The peak season also means that prices for accommodations, activities, and transportation are generally higher than in the off-season.
Low season is May and October. The weather is still beautiful during this period and the prices of accommodation are noticeably lower.
When is the hottest month in Croatia?
The hottest month in Croatia is typically July, which is in the middle of the summer season. The coastal regions of Croatia, including cities like Dubrovnik, Split, and Zadar, can experience high temperatures in July, with average daily temperatures ranging from 25°C to 35°C and sometimes even higher up to 39°C.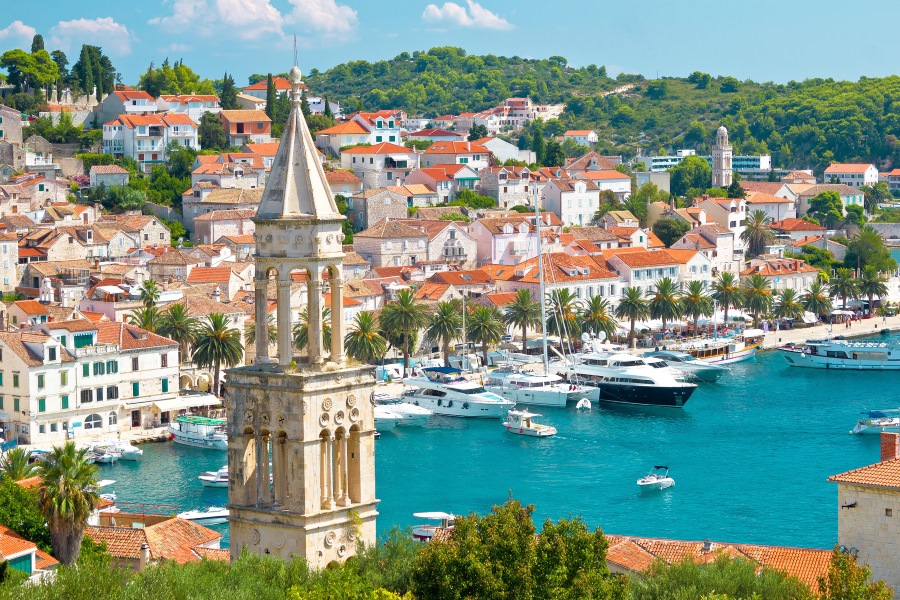 Hvar, Croatia
What are the best Croatian islands?
Croatia has many beautiful islands, each with its own unique charm and attractions. Here are some of the best Croatian islands to visit:
Hvar: Known for its stunning beaches, vibrant nightlife, and lavender fields, Hvar is one of Croatia's most popular islands.
Brac: This island is famous for its white pebble beach, Zlatni Rat, which is a popular spot for swimming and windsurfing.
Korčula: The birthplace of Marco Polo, Korčula is a charming island with a historic old town and beautiful beaches.
Vis: This island is known for its unspoiled natural beauty, with secluded beaches, hidden coves, and crystal-clear waters.
Mljet: Mljet is home to a national park with pristine forests, lakes, and hiking trails, as well as stunning beaches and historical landmarks.
Pag: This island is famous for its unique landscape, with lunar-like rock formations and a rugged coastline, as well as excellent cheese and wine.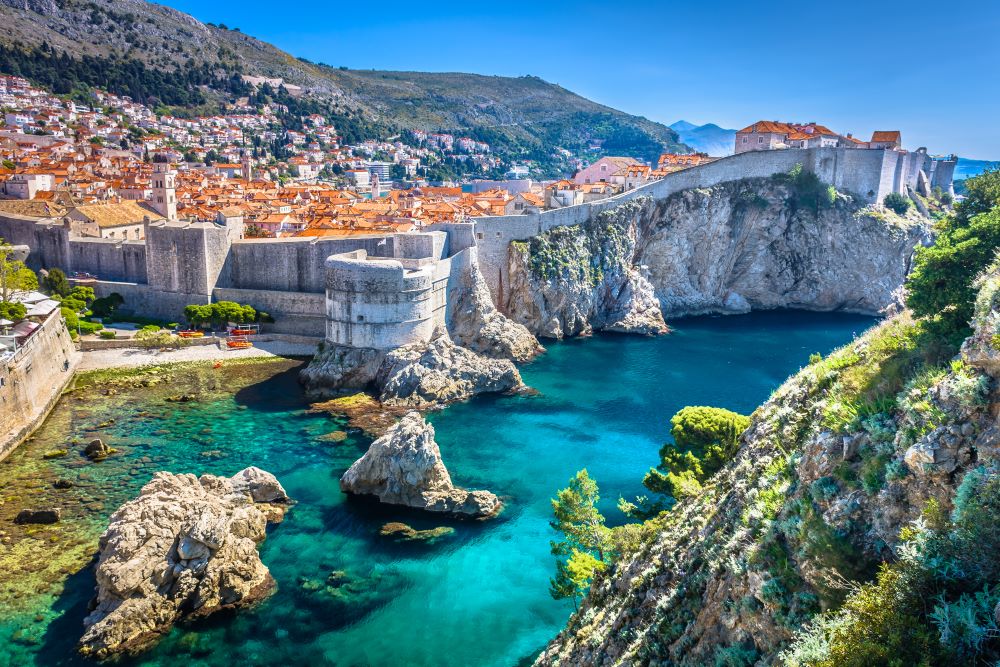 Dubrovnik, Croatia
What are the best Croatian towns to visit?
The best Croatian towns to visit are:
Dubrovnik: Known as the "Pearl of the Adriatic," Dubrovnik is a stunning walled city with historic architecture, charming streets, and beautiful beaches.
Split: The largest city in Dalmatia, Split is home to the UNESCO-listed Diocletian's Palace, a stunning waterfront promenade, and vibrant cultural scene.
Hvar: The town of Hvar is a popular destination on the island of the same name, with a historic center, beautiful beaches, and lively nightlife.
Rovinj: A picturesque town on the Istrian peninsula, Rovinj is known for its charming old town, colorful buildings, and beautiful beaches.
Zadar: A historic city on the Adriatic coast, Zadar has a rich cultural heritage, with attractions such as the Roman Forum, St. Donatus' Church, and the Sea Organ.
Trogir: A UNESCO-listed town on the Dalmatian coast, Trogir is a charming medieval town with narrow streets, historic buildings, and a beautiful harbor.
Šibenik: A historic town with a beautiful old town, Šibenik is home to the UNESCO-listed St. James Cathedral and the stunning Krka National Park.
Zagreb: Capital of Croatia. Ideal for arrival throughout the year and especially in Advent time.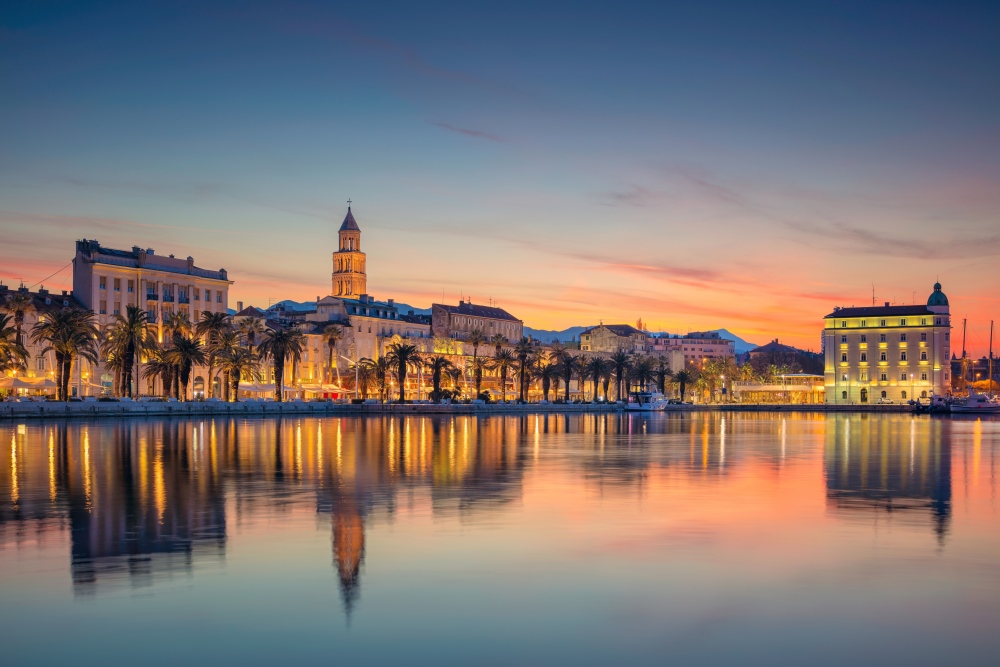 Split, Croatia
Do they speak Englih in Croatia?
Yes, 78% of Croats speak English. Croats are 14. best speakers of English in the world. There is almost no person in tourist destinations who do not speak at least one foreign language. It's always a good idea to learn a few basic phrases in Croatian, such as "hello" (dobar dan), "thank you" (hvala), and "goodbye" (doviđenja), as it shows respect for the local culture.
Is it safe to travel in Croatia?
Yes, Croatia is generally a safe country to travel in. The crime rate is relatively low, and violent crime is rare. Be careful only when swimming on beaches in major tourist areas and protect your belongings from pickpockets. Respect the communal order and everything will be ok.
Which part of Croatia is warmest?
The warmest part of Croatia is generally the southern coastal region, which includes cities such as Dubrovnik, Split, and Makarska. This area has a Mediterranean climate with hot, dry summers. In the southern parts of Croatia along the coast, the temperatures sometimes do not drop below 30 degrees at night during July and August.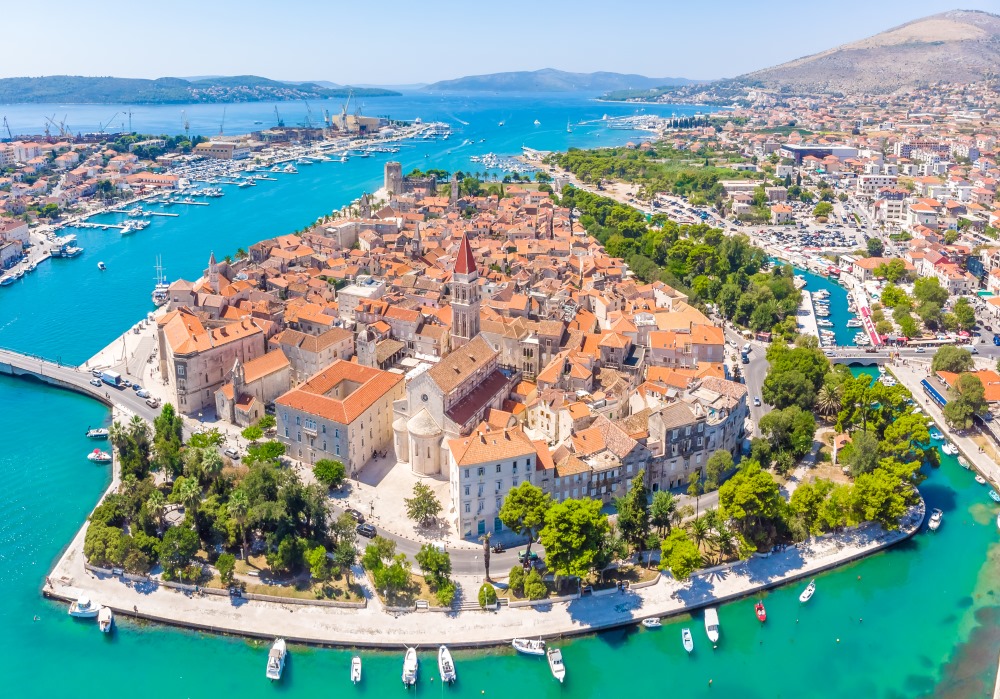 Trogir, Croatia
What are the best part of Croatia for a holiday?
It certainly depends on your wishes and travel preferences, but we choose the Dalmatian Coast with Islands. The Dalmatian Coast is a popular destination with its beautiful beaches, crystal-clear waters, historic towns and cities, and plenty of opportunities for outdoor activities.
Which Croatian island is sunniest?
Hvar is the sunniest island in Croatia, with an average of around 2,726 hours of sunshine per year.
And finally, we bring you local recommendations that you can't find anywhere else:
Come to Croatia by car or if you are coming by plane take rent a car so you can explore the beautiful coast and islands every day.
Eat only traditional food where the locals eat. Avoid restaurants and places for tourists.
If you don't have a big budget, travel in September. Prices are much lower, less crowded, and the weather is perfect.
Book your villas in Croatia for rent with the local Home Rent agency. The best tips and help for your perfect vacation in Croatia.
Croatia in Style
Croatia Travel Blog